March Only – up to 50% off Installation. Act Now!
"The team were very personable, knowledgeable and professional throughout the entire process. Finished product was amazing quality at a great price. Would definitely recommend their services to anyone! "
– Brian Hanna
"We were extremely pleased with the finished product. They promised to be done in one day and they were. The crew was extremely neat and organized. "
– Rosemary Scelsa
"Excellent job by all involved. The sales rep was on point, the install crew was neat and attentive to details. Most surprising was they finished in 1 day, as promised. Definitely recommend them for bathroom needs. "
– Mike Scelsa
You tell us about your bathroom remodeling project.
We give you fast and free quotes from the best teams for your project.
You select the best team, your project gets scheduled, and the bathroom transformation can begin!
GIVE YOUR BATHROOM THE MAKEOVER IT DESERVES
SHOWER/TUB REPLACEMENT
Old showers and old tubs are ugly. Leaks, chips, cracks, stains, mold – all of it ruins the look of a bathroom. Looking to revamp your bathroom aesthetics? We specialize in helping you replace the old with the new. In just one day, you can have a fully upgraded shower or tub, and a transformed bathroom.
Wide variety of styles, colors,and accessories.
100 percent acrylic that is built to last
Anti-microbial protection that repels mildew and mold for many years.
SHOWER-TO-TUB CONVERSION (doable in 1-Day!)
Tub to shower conversions create more floor space and offer a sleek look—especially if you opt for a clear glass shower door. A tub-to-shower conversion instantly elevates overall the look of your bathroom, creating a more sophisticated and modern vibe.
Create the bathroom you desire in one day, at a fraction of the cost of a traditional remodel.
Built to stand the test of time. Anti chipping, cracking, staining, and anti mildew and mold.
A variety of styles and colors to match your existing décor and design taste.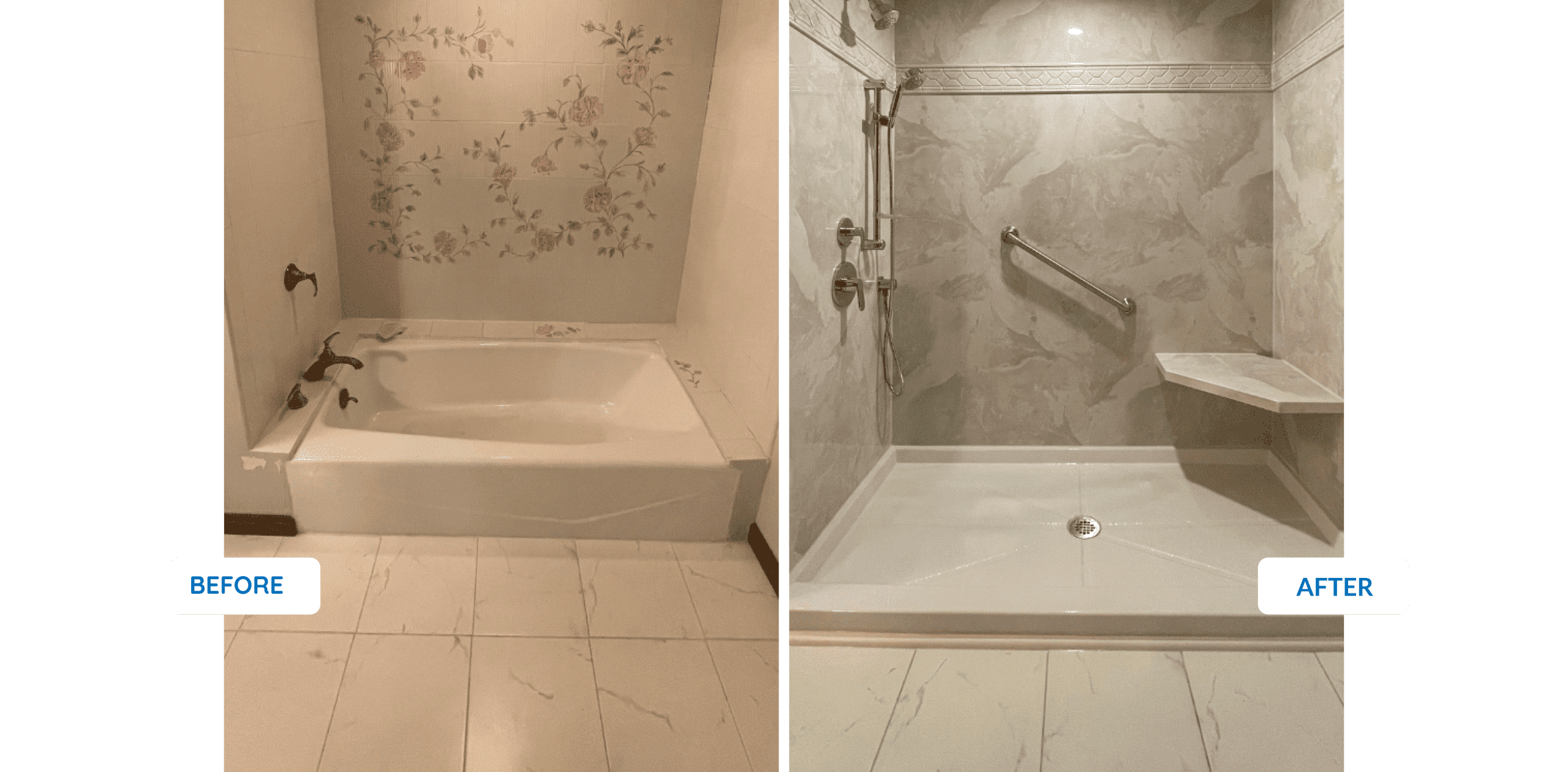 WALK-IN TUBS & SHOWERS
Many households are in need of safe bathing solutions. Whether you're working with a tight space or have room to fill, our walk-in options will add a new luxury to your bathroom space, while guaranteeing the safety of everyone at home.
A variety of walk-in options, customized to fit any space.
Our materials are durable, built to withstand years of wear and tear, and non-porous – protecting against mold and mildew.
Expert advice on tile treatments, lighting, layout, storage, and more.
SHOWER/TUB UPDATES
Is your bathtub or shower cracked, stained or chipped, and in need of a spruce-up? Our remodeling experts can create the sleek, luxurious and modern bathing experience you need.
Fully customized to suit your space and your preferences.
Durable and timeless designs that are fully inline with the latest trends.
The very best materials, resistant to all the wear and tear of daily life.
WE ONLY WORK WITH THE BEST
The expert teams we work with have years of experience nailing every kind of job. They are dedicated to creating your ideal bathroom. Our contractors arrives on the day of the re-model fully prepared and equipped to complete the job as rapidly as possible. They never leave the site until they've performed a final check, and until you're 100% satisfied with the work.
GET FREE QUOTES NOW
SERVING THE
WHOLE
COUNTRY
We get the job done,
wherever it is.
From Miami to Dallas to San Diego
and anywhere in between.
GET FREE QUOTES NOW
New orders only; offer not valid on previous sales or estimates and cannot be combined with other offers. *Subject to credit approval. Financing for consumer loan programs are provided by federally insured, equal opportunity lender banks. Minimum purchase may apply. Speak with your contractor for details. Other restrictions may apply.