October Only – up to 50% off Installation. Act Now!
Seriously low maintenance
Built to endure heavy foot traffic
Wipe-clean so no worries about spills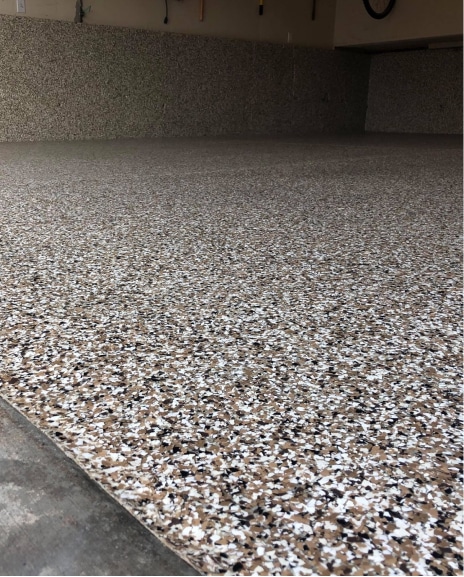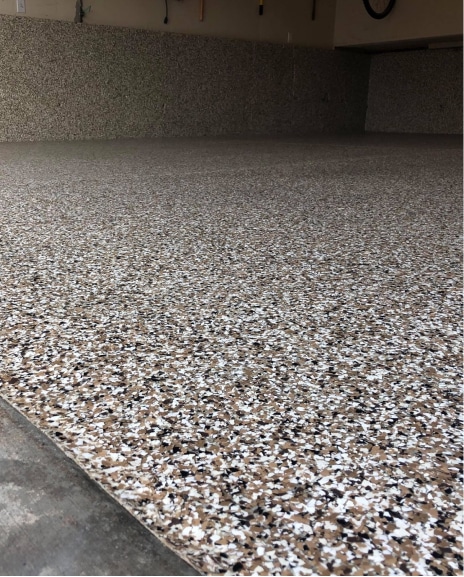 Seriously low maintenance
Built to endure heavy foot traffic
Wipe-clean so no worries about spills
Our Customers Love Us!
"I've thought about this project for months and had planned to take it on myself. If there was a six star rating, I would give it to the team. Thank you for helping with making our patio a piece of paradise. Top notch!!"
– Davide
"21 years? I don't think you can beat that kind of guarantee anywhere. My self-applied epoxy floor lasted about 2 years! Thanks to the hard-working crew for taking such pride in their work. This group are like artists."
– JH
"I love my garage floor! It looks so clean and organized, it is like having an additional room. They are a great business run by hard working professional people. It was a pleasure to do business with them. My neighbor now has garage envy!"
– Helen
Our Six-Step Epoxy Process
PREPARE THE FLOOR
We use diamond grinding machinery to prep the surface of your concrete floor, repairing any cracks or pitting and getting the surface smooth. Our repair products are developed to bond to concrete and our base coat.
APPLY A PREMIUM BASE COAT
We use custom, industrial-grade coatings to produce the most durable and long lasting floor. Depending on the humidity in the home, this base coat may include a moisture vapor barrier.
APPLY HIGH QUALITY VINYL FLAKES
We apply a flexible, durable layer of premium polyaspartic flakes.
ADD A CLEAR RECEIVER COAT
We add a layer of specialized receiver coat to make the floor even tougher and able to withstand years and years of wear and tear.
APPLY ANOTHER LAYER OF HIGH QUALITY VINYL FLAKES
Next, we apply another layer of premium polyaspartic flakes. This additional layer results in maximum coverage and durability.
ADD A TOP QUALITY TOP COAT
To seal in the signature flakes, we use an industrial-grade top coat. This creates a beautiful, shiny finish. We can also add an anti-slip safety coating may also be added at this stage.
SERVING THE
WHOLE
COUNTRY
We get the job done,
wherever it is.
From Miami to Dallas to San Diego
and anywhere in between.
GET YOUR FREE QUOTES
New orders only; offer not valid on previous sales or estimates and cannot be combined with other offers. *Subject to credit approval. Financing for consumer loan programs are provided by federally insured, equal opportunity lender banks. Minimum purchase may apply. Speak with your contractor for details. Other restrictions may apply.