Ready To Get Started Remodeling Your Kitchen?
Get connected with the perfect contractor, for free!
As exciting as the idea is, the planning involved in remodeling a kitchen can be overwhelming for most people. Who doesn't have a dream kitchen remodel in mind? Who doesn't fantasize about being able to customize our cooking, eating, and storage spaces?
However, the task can feel insurmountable regarding the actual designs, demolition, and installation. There are so many unknowns: Where to start? What changes will make your kitchen both inviting and more functional? Which improvements will appeal to future buyers? And perhaps most importantly, how will you use the space? Learn how you can unite form and function with successful kitchen remodels.
What to Consider with Kitchen Remodeling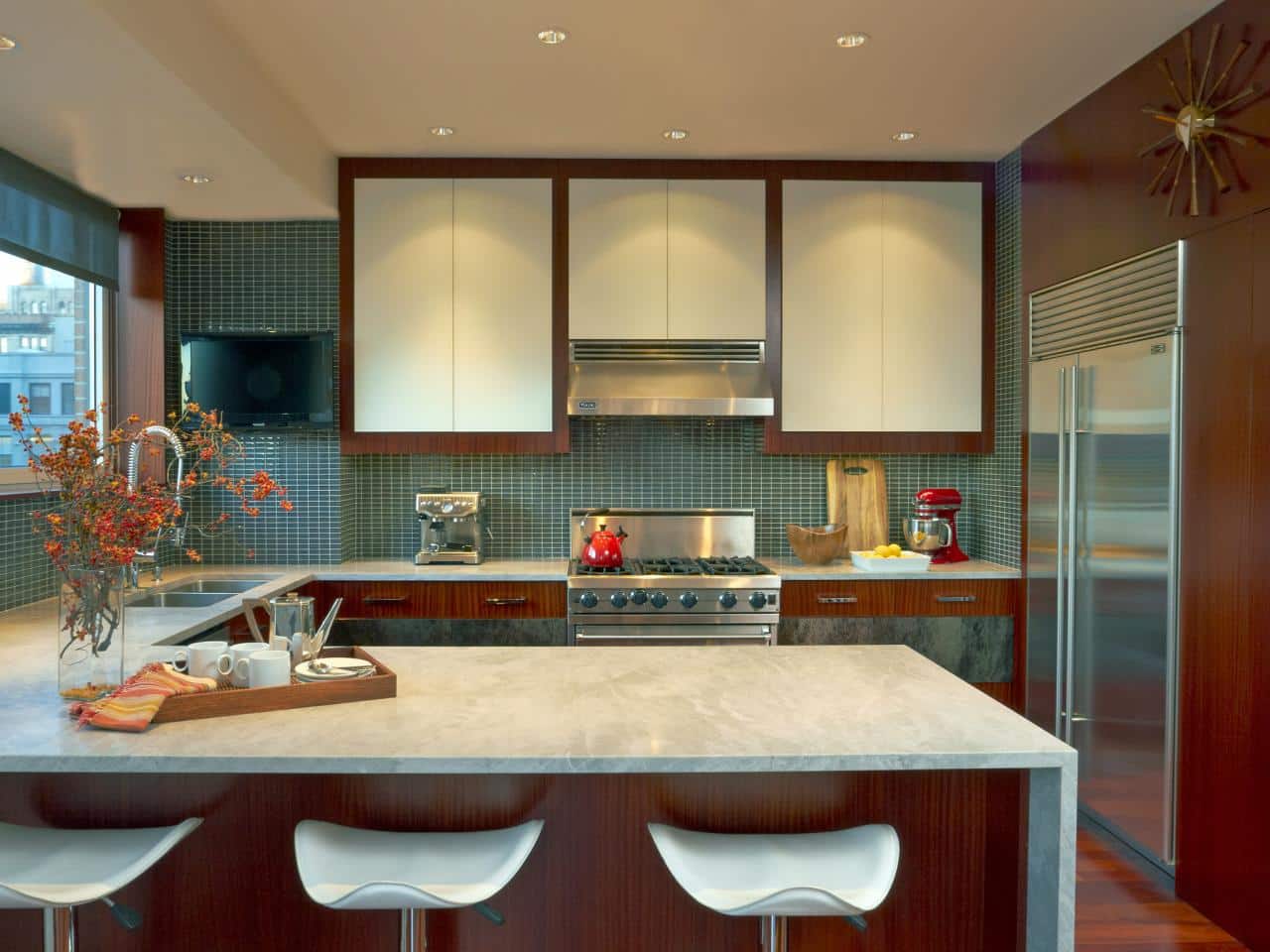 These days, when people think about a kitchen remodel, they often have similar finished products in mind: professional-grade stainless steel appliances, granite countertops, and a vast island. Such kitchens are undoubtedly attractive and valuable, but there are always more options. Think outside the box, and consider how your family will use the kitchen.
Better Functionality
Do your children like to do their homework there? Would you like your kitchen to be the central hub for organizing family activities? Perhaps you'd like a desk to be included in the design. Do you entertain often and need a long dining table to accommodate guests? Are you a foodie requiring extra refrigeration, prep, or gadgetry space? Your personal needs should inform a part of your design plan.
Functionality is a critical aspect of remodeling a kitchen. A well-designed kitchen should serve as an efficient, organized workspace that caters to all your cooking needs.
Essentially, you need to consider how you'll use the kitchen and tailor the remodeled design around that purpose. For example, think about how you'll store items, where the appliances will be, and how much area you'll need to prepare meals. Plan for efficient storage solutions, such as pull-out cabinets and drawers, so you can easily access everyday items. Think about the room's flow and how you'll move from point A to B. Consider adding an island or peninsula for extra counter space to make your kitchen more user-friendly.
Additionally, consider the types of appliances you need and where they should be placed for maximum convenience. Putting in mind the kitchen's function will help you create a space that works for you and your lifestyle. Suppose you are interested in improving your kitchen to sell your home. In that case, you'll maximize the financial return on your remodel if you keep the fundamentals in mind—counters, cabinets, and lighting.
Added Value
Put cabinets at the top of your list to attract maximum value in your kitchen remodel. This doesn't always mean tearing out and replacing your current cabinets, though sometimes, a complete replacement may be advised. Sometimes simply repainting your cabinets and installing handcrafted new pulls provides a refreshing update. Islands and countertops lead the way when it comes to altering the appearance and value of a kitchen remodel significantly, and quartz is currently the surface of choice.
A combination of minerals and resins, it's more complicated than natural stone but won't scratch like Corian or other solid surfaces. Depending on individual design, it can work as well in traditional or farmhouse décor as it can in a modern industrial-style loft. A kitchen remodel's added value affects the home's marketability. An updated, modern kitchen can make all the difference when selling a home, as potential buyers are more likely to be attracted by home spaces that are both aesthetically pleasing and functional.
Investing in high-end appliances, countertops, and other features during a remodel can significantly increase the home's resale value. Energy-efficient appliances and fixtures can save homeowners money on their monthly utility bills. By considering how a kitchen remodel will add value to your home both now and in the future, homeowners can make wise investment decisions.
Overall Aesthetic Sense
Of course, remodeling your kitchen should also include improving on its look. Yes, you've already considered what appliances and features you need, additional storage areas, the kind of sink or stovetop, or the presence of an island. Keep in mind, however, that the look and feel of these changes should fit aesthetically.
Securing the aesthetic sense of your kitchen space will make it feel inviting and enjoyable. This is important, considering it's where people create and prepare (and sometimes, eat) food. Without a good looking kitchen, homeowners won't feel inspired or confident with the food they're preparing.
Aesthetic elements such as color combinations, surface textures, and line work can help create a sense of harmony and openness in the space. It also helps incorporate the kitchen into the home's overall design, resulting in a cohesive and unified look.
Remember also that many inexpensive changes, such as paint color, provide a significant wow factor. Choosing the perfect color makes for an appealing, pleasant space and can quickly return substantial value. Timeless white? Chic dark gray? The possibilities and combinations are limited only by your imagination.
Ready To Get Started Remodeling Your Kitchen?
Get connected with the perfect contractor, for free!
Ensure Kitchen Remodeling Success: Go for the Pros

Kitchens are at the heart of our sustenance and sociability. A successful kitchen remodel will unite form and function for this all-important hub of the modern home.
Hiring kitchen remodeling contractors is the most prudent way to ensure your remodeling project meets all safety and quality standards while staying within budget. Professional contractors have experience with local building codes, construction techniques, and materials that can help you achieve the kitchen of your dreams without making costly mistakes. They also have access to specialized equipment and technology that will improve efficiency and reduce the cost of labor.
Quality workmanship and craftsmanship are also important factors when hiring a professional contractor; they guarantee that your new kitchen will be as beautiful and functional as possible. Working with a professional contractor also gives you peace of mind knowing that your project is being handled by someone who understands the process from start to finish. A quality contractor will provide quality results, advice, and guidance throughout the process to ensure your dream kitchen is created.
Ultimately, a professional contractor can help you create a stunning and functional kitchen in less time and with fewer hassles, compared to if you were attempting the project yourself. With their expertise and experience, they'll make sure your kitchen remodel is a success.
Ready To Get Started Remodeling Your Kitchen?
Get connected with the perfect contractor, for free!