It is finally time for the cooler nights to start to move in and the days to begin to grow shorter. We have only a couple of months left in 2022 until our new journey awaits in 2023!  The color trends for 2023 you have been waiting for are finally here. Color trend reports for 2023 represent a variety of hues that evoke comfort, acceptance, joy, balance, energy, love, and kindness.
Leading manufacturers like Sherwin-Williams, Valspar, and PPG, have released their color trend forecasts for the upcoming year. Which color story trends will help you tell your home design story best?
How to Color Forecast 
In the design industry, for interior designers, style-savvy homeowners, and even influencers waiting for the new Color of the Year, it can be just as exciting as finding out which professional team gets the first-round draft picks!
According to WGSN and Coloro, the color experts survey around the globe, taking inspiration from the fashion industry, lifestyle, interior design, technology, beauty, art, social movements, influential events, brands, current events, home and design, and many more. We can leverage these color trends as they tend to identify and shape our homes, sense of balance, comfort, and overall well-being.
Color Trends of 2023 
Let's dive in and take a look at the top color trends from manufacturers like Sherwin-Williams, Valspar, and PPG to see what they are saying about the Color Trends for 2023.
Sherwin-Williams 2023 Colormix Forecast, the palette is inspired by people and spaces. Sue Wadden, Director of Color Marketing, says, "We are on an intentional journey to experience beautiful, living colors as we evolve. Our connection to the Earth, fondest memories, and future hopes will influence our global outlook in the months to come."
This collection has been named TERRA.  In the design industry, these hues are inspired by people and their spaces. What is going on in today's society will shape and play a significant role in the upcoming color trends in the design industry, all the way from culture and climate change to mental health.
The 2023 Colormix Forecast features rich earth tones, natural clays, sands, restful neutrals, and powdery pastels. Terra has comprised 40 trend colors across four palettes: Biome, Lore, Nexus, and Origin.
Biome:
The Biome palette focuses on its ever-changing ecosystem seeking a perfect balance with Earth. Its palette finds inspiration in "biophilia," "organic minimalism," and "symbiosis." It is best to describe the colors selected for this palette among the observance of peace of delicate bourgeon taupe, lichen gray, rich earth tones, tranquility, and sophistication.
Lore:
The Lore palette draws inspiration across cultures and historical eras. This palate's hues mix ancient reds, powdery pastels, and rich jewel tones.
Nexus:
The Nexus palette allows consumers to find realms of healing energy. You'll discover grounding browns, soft, soulful whites, and various warm tones. Incorporating natural clays and sunbaked dessert gives a calming and stimulating effect. Every day, Nexus will provide you with the surrounding feeling of love, kindness, and peace.
Origin:
Origin takes vibrant colors, mixing and matching to embrace our memories and future hopes as we create joy in the present moment. Bold, bright colors bring hope for the future, while other hues give a rush of magnetism and restful neutrals.
Valspar Colors of the Year 
Valspar's 2023 Colors of the Year are twelve trend-worthy, beautiful, livable, ready-to-go shades that restore and rejuvenate any space. It is not a surprise that Valspar's experts have matched each color to a specific feature or emotion of life, relating to what people might find helpful to complement their space.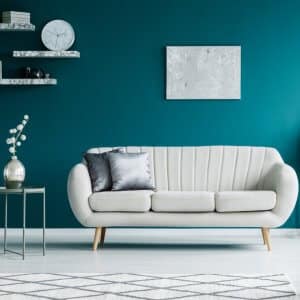 Next year's color collection is about finding a new comfort, embracing your flexible lifestyle, finding joy and what makes you happy, and growing your inner Chip and Joanna Gaines DIY "movement."
According to Valspar's Color Marketing Manager, Sue Kim, these shades are for everyone.  "Valspar 2023 Colors of the Year are usable shades that encourage self-expression that anyone can envision in their space," said Sue Kim.
PPG 
Design trends always tend to be a reflection based on what has occurred in the most recent years.  The driver of the 2023 forecast for PPGs Color trends is the idea of reflection and what matters to us, Serenity, Origin, and Duality.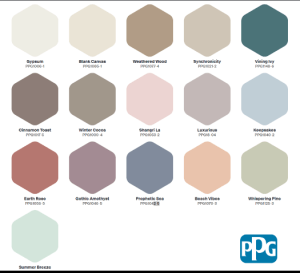 The 2023 trending color of the year for PPGs is Vining Ivy. Vining Ivy is a deep shade of Caribbean aqua with a turquoise undertone. It is the perfect color for your interior or exterior space and can represent both your contemporary and traditional styles. Vining Ivy as a hue has enough sense of calm and tranquility to help us look inward and reflect.
Serenity is a graceful palette of milky pastels, watery tones, and warm neutrals. It is about focusing and prioritizing the essential things in life and finding internal peace.
Origin is a grounding and magical palette that captivates the beauty of the natural world. Origin creates a sense of safety and a desire to push into unfamiliar spaces.
Duality is a palette that recreates the world. According to one's own rules with powerful contrasts between bright, clean pastels and strong neutrals.
Express Your Story Through Color 
The 2023 Color trends are never just about one color; they are to inspire! Does your home need a refresh? If so, these palettes and color trends would be a great start in implementing and creating your own transformation story.
Since the new year's themes focus on reflection, balance, comfort, and joy, these color trends focus on making a lasting change. A beautiful change inward as you take time to reflect and change as you remodel your bathroom, kitchen, or flooring space,  which is always a great place to start for any project remodeling needs!