Let's Get Your Project Done Right
We match you with the perfect home improvement contractor.
Polyaspartic floor coating is a type of flooring that is gaining popularity as a result of the numerous benefits that it offers. It is an option that is long-lasting and resilient, capable of withstanding heavy traffic, and easy to clean and maintain. Because it protects against slipping, polyaspartic floor coating is ideal for use in both commercial and residential settings. Additionally, it has various advantages in comparison to conventional concrete floors. It is very resistant to the ramifications of impact, abrasion, and chemical exposure.
Construction professionals can apply it in a myriad of colors and patterns according to the property owner's preferences. The polyaspartic coatings market is expected to reach USD 388 million by 2025, at a CAGR of 3.4%. Polyaspartic coatings are extensively used in the construction and building industries. Some of the most common applications include, but are not limited to:
Bridge Construction
Commercial Architecture
Floor and roof coating
Caulks
Joint fill
Car park decks
Concrete repair, and;
Structural bonds.
Polyaspartic coatings are used as stone carpets, topcoats, sealants, and waterproofing. Read on to learn more about polyaspartic coatings, what makes them different from epoxy flooring and why they are one of the best options for floor coatings.
Polyaspartic Floor Coating vs. Epoxy Coating
What is polyaspartic floor coatings? This type of flooring is 20 times more robust and 4x more durable than standard epoxy coatings, making them perfect for high-traffic areas or spaces subjected to a lot of wear and tear.
"Polyaspartic floor coatings are gaining popularity in both residential and commercial applications. They are an excellent choice for various floor types due to their durability and aesthetic appeal."
Polyaspartic coatings have numerous advantages over traditional epoxy floor coatings. Polyaspartic coatings are UV stable. In contrast, epoxy coating is not and will typically change color when in continuous contact with sunlight or UV rays, which causes them to amber over time.
In addition, polyaspartic coatings can be applied in colder weather than epoxy coatings, making them ideal for use in climates with harsher winters. Road crews typically use magnesium and calcium chloride, better known as road salts, to de-ice the roads when it snows. The salt, snow, and slush mixture can attach underneath your vehicle and later deposit onto your garage floor. Over time if your concrete is not coated or protected from the elements, it may cause spalling and pitting from these harsh chemicals. It's a good thing, polyaspartic coatings are resistant to chemicals, salts, anti-freeze, fuel, oil, and hot tires, and make it an excellent option to protect your concrete, especially for those harsh winters.
Polyaspartic coatings also have superior scratch, stain, and impact resistance, which is great for the longevity of your floor. Polyaspartic floor coatings are an excellent choice for a long-lasting and durable material. It's more durable than epoxy and won't fade or stain over time. If you're looking for a high-quality, long-lasting floor coating, polyaspartic flooring is the way to go.
Polyaspartic is leading the market for its use in coating residential garage floors. Due to their extreme durability, polyaspartic coatings make an excellent option for any residential needs, such as the following:
Pull-Barns
Interior — Basements, Laundry Rooms, Electrical spaces
Walkways
Porches
Man Cave
Breezeways
Commercial spaces
And More!
Using polyaspartic coatings for your exterior space will help protect your concrete from the outdoor elements. Read on to learn the four main reasons that make polyaspartic floor coatings an excellent flooring option. These reasons will also explain what makes them different from epoxy flooring and why they are one of the best residential and commercial flooring options.
4 Reasons Why Polyaspartic Floor Coating Are Great for Floors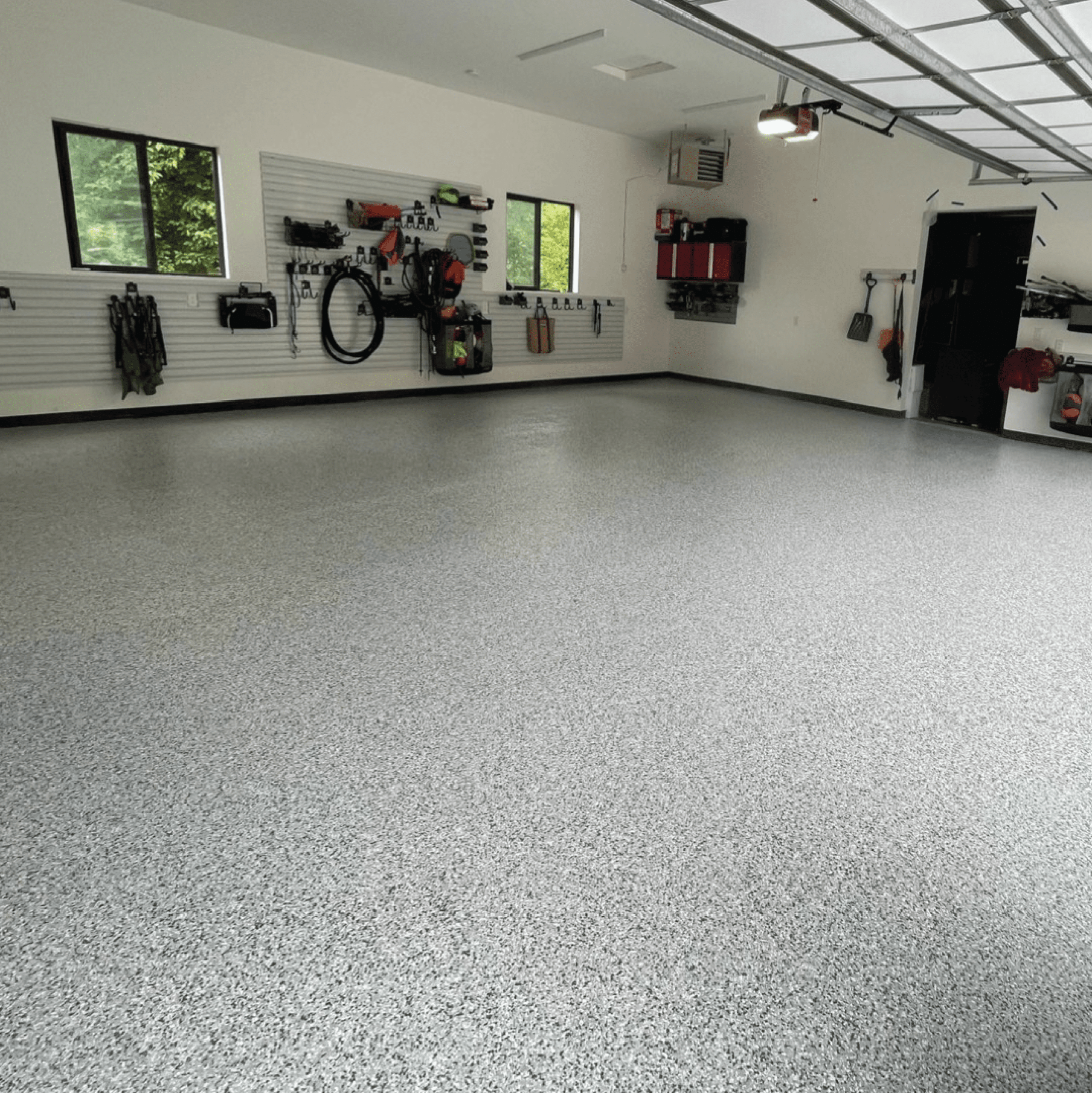 Polyaspartic coatings are more durable and long-lasting, as well as stain and fade-resistant. The following are four main reasons why polyaspartic floor coating creates the best floors:
Polyaspartic floor coating is one of the most durable options on the market, withstanding heavy traffic and wear and tear. Polyaspartic coatings are resins made by reacting aspartic anhydride and polyaspartic acid.
This combination produces a long-lasting, hard-wearing coating resistant to abrasion, corrosion, and impact. Polyaspartic floor coatings are also heat-resistant. High temperatures will not easily damage, warp, or crack them.
Polyaspartic coatings are frequently used in industrial, commercial, and residential settings where a tough, long-lasting finish is required. Polyaspartic floor coatings are highly durable and can last many years if properly cared for and maintained.
Polyaspartic floor coatings are easy to clean and maintain, requiring little effort to keep it looking its best. Polyaspartic floors are easy to maintain because they are highly durable and resistant to staining and fading.
Here are some helpful tips for keeping your polyaspartic coating well-maintained:
Regularly sweep to remove dirt and debris to keep your polyaspartic floor coating looking its best. Wipe up oil and spilled liquids with a damp cloth. Use a soft-bristle broom to scrub the floor if needed. For tougher stains (such as grease), it's highly recommended to use Dawn Dish soap and warm water. Be sure to rinse the area thoroughly with a foam mop or foam squeegee afterward. Using a rubber squeegee or a power washer is not recommended on these types of floors.
Below are a few recommended products to help clean your polyaspartic floors easily. These are just a few suggestions to make the cleaning process more manageable, but any foam squeegee or mop will work:
You should also avoid using harsh chemicals or abrasive cleaners, which could damage the coating. With proper maintenance, your polyaspartic floor coating will retain its pristine appearance for years.
3. They are Slip-Resistant
Polyaspartic floor coatings are slip-resistant, making them a safe option for commercial and residential settings. Polyaspartic floor coatings are slip-resistant due to their textured surface. The texture provides traction, which helps prevent slipping and falling.

They are also slip-resistant because they are more rigid than most flooring materials, providing a stable walking surface. Being a chemical stain-resistant floor coating, spills or other liquids will not damage or absorb as stains. 
4. Aesthetically Pleasing
Polyaspartic floor coatings are available in various custom colors, making them an attractive option for any space. When it comes to flooring, there are numerous options on the market. However, not all of them are equally appealing to the eye!
A polyaspartic floor coating can provide your floors with a beautiful, stylish, aesthetically pleasing finish. The flake finish of a polyaspartic floor coating adds a touch of elegance to your space, and you can easily find the perfect shade of polyaspartic floor coating to match your furniture and overall interior design.
Polyaspartic floor coatings are an excellent choice for an aesthetically pleasing flooring option. Its flake coating and variety of colors can assist you in creating a stylish, luxurious, and inviting space. The coating's surface is also simple to clean, ensuring that your floors always look their best.
Upping Your Floor's Aesthetic With Polyaspartic Floor Coating
Polyaspartic floor coatings are an excellent choice for those who want to improve the appearance of their concrete floors. They are also simple to clean and maintain, making them an excellent choice for high-traffic areas. These floors make a great choice for concrete floors because they are higher quality, more durable, and more damage resistant.
If you want to upgrade from traditional epoxy flooring, polyaspartic floor coatings are a great choice. Having many advantages durability, ease of maintenance, wear, and UV resistance.  To learn more about polyaspartic floor coating and how it can improve the appearance of your concrete floors, contact HelloProject today!
Let's Get Your Project Done Right
We match you with the perfect home improvement contractor.