Compare Prices on Your Bathroom Project
Get free quotes today and select the best deal!
A sense of dignity, class, and luxury starts in the bathroom. Its state, whether awful or top-notch, is a reflection of your status, shame, or pride. A look at the sink, the tub, flooring, and lighting can tell your visitor a whole lot about you. According to a study, bathroom remodeling is the most popular upgrade among Americans in 2021, followed by bedrooms, kitchens, living rooms, and exteriors. Nearly 70% of those planning to enhance or renovate their homes intend to remodel their bathrooms completely. In a separate study, 33% of homeowners who had their master bathroom renovated said their primary reason was because they couldn't stand their old bathroom layout any longer. As part of their renovation work that year, nearly half of all U.S. property owners chose to modify the layout of their master bathroom.
However, we know to remodel and renovating a bathroom is daunting. You have to factor in the budget, space, and rigidity of the structure already in place. That's the reason why you need a bathroom remodeling expert to attend to your bathroom improvements. Here are 6 bathroom remodeling tips that will help you have your dream bathroom.
#1. Find A Professional Contractor
Changing the entire face of a bathroom is a walk of no return. Working with an amateur when renovating a bathroom is out of the question. You have to work with a professional remodeler. This is because pros will review the space available, propose a new design and model, ways to save, and provide expert advice on the areas that cannot change. The contractor will assess the input required in the areas of plumbing, tiling, and electrical fitting. They will provide a budget estimate and reveal the practicability of your project. You will work with a clear contract and have an open channel of communication.
#2. Develop The Layout and The Floor Plan
This will give you a vivid impression of the final outlook of your bathroom. Think of the basics on one aspect and the secondary additions that you can do without. This is the ultimate hack for space management. Think about the toilet seat, the sink, the bathtub, and the showerhead. The bathroom remodeling expert will recommend the haves and the have-nots based on the rigidity of the floor plan.
#3. Ensure Proper Plumbing and Sound Electrical System
The state of your bathroom drainage can affect your attempts to be neat and your overall hygiene. A smelly and clogged shower drain is the last thing you want in your bathroom. The bathroom remolding tip here is to work closely with your remodeler to ensure plumbing is perfect around the tub, the sink, the toilet seat, and the drain pipes. The contractor has to safely fit the proper electrical outlets, including switches, light fixtures, and vent fan.

#4. Shower or Bathtub Decisions
This is a primary need for a bathroom. You will either choose a shower or a bathtub or a combination of both if space allows. If you select both, you will have to make a compromise on what to forego. For the best bathroom remodeling tips, seek the advice of a seasoned pro. A professional contractor will provide advice on the most appropriate decision to make.
#5. Don't Compromise On Bathroom Flooring
The bathroom is a wet location. You have to strike a balance between attractiveness and water resistance. According to one study, 234,000 adults and teenagers slip and fall in the bathroom each year, and bathroom slips and falls cause 79% of all bathroom injuries among people 65 and older. Your flooring option must be waterproof, resilient, and safe to walk on when your feet are wet. Ceramic and porcelain tiles can serve you well in this area.
#6. Storage
You have to factor in towel racks, soap dishes, toilet paper holders, and laundry baskets. The best bathroom remodeling tip when it comes to storage is to plan ahead for a counter, a cabinet, and hooks to hold items while in the bathroom. Linen cabinets, bathroom shelves, and medicine cabinets will give your bathroom a decent look. Your contractor will propose a model that will accommodate your preferences.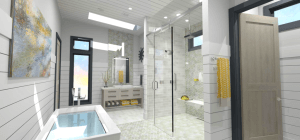 Are You Looking to Remodel Your Bathroom?
Now that you have the above 6 bathroom remodeling tips and know the key areas to worry about before remodeling your bathroom, we can match you with accredited bathroom remodeling experts near you. A bathroom remodeling contractor will walk you through the entire process and help you renovate your bathroom. Call us at 800.900.7875 today to get started.
Compare Prices on Your Bathroom Project
Get free quotes today and select the best deal!