Have you ever walked into a room and imagined how just a few changes could turn it into your dream space?  That's the magic of home renovation, and it's not only about upgrading your living space.  It's about bringing your vision to life, creating a haven that reflects your style, and enhancing your quality of life.  Undertaking a home renovation is a significant step, and it's crucial to navigate it confidently and to be equipped with the knowledge to make informed decisions to achieve your dream renovation.  From planning to execution, a home renovation requires thorough consideration of various factors.  Whether a complete home makeover or focusing on specific areas, this comprehensive guide can be your compass.  It will provide essential tips and insights to navigate your home renovation process.
Defining Your Goals
The key to a successful home renovation is knowing your goals.  Are you seeking more space, modern aesthetics, or energy efficiency?  Clarifying your objectives will ensure that your renovation aligns perfectly with your end goal.  Your end goals will help you navigate and stay on course throughout your renovation journey.  End goals will help focus and decide what room to remodel, what to change, how, and, ultimately, why it matters.
Create a Realistic Budget 
Budgeting is a critical aspect of any renovation project.  Creating a budget that aligns with your objectives and constraints is absolutely essential.  The budget serves as a financial blueprint that may need adjustment as your renovation progresses.  Preparing for potential cost overruns and having a clear financial plan will help you stay on track and avoid financial stress during your renovation.
Assess the Pros and Cons of Bathroom or Kitchen Renovation 
When contemplating a home renovation, particularly for bathroom or kitchen remodels, assessing the pros and cons is also crucial.  The classic dilemma for a home renovation is often the question of which space you should renovate: the bathroom or the kitchen.  A bathroom remodel could hint at a daily spa-like indulgence, yet it also can signify a short period of inconvenience.  Meanwhile, a kitchen overhaul promises gourmet delights and social gatherings, but be prepared for a temporary cooking hiatus and a potential high cost.  Remember that a well-thought-out plan can potentially change every con into a pro.  With the help of a contractor and budgeting, a bathroom transformation brings tranquility and, with a kitchen remodel, more functionality.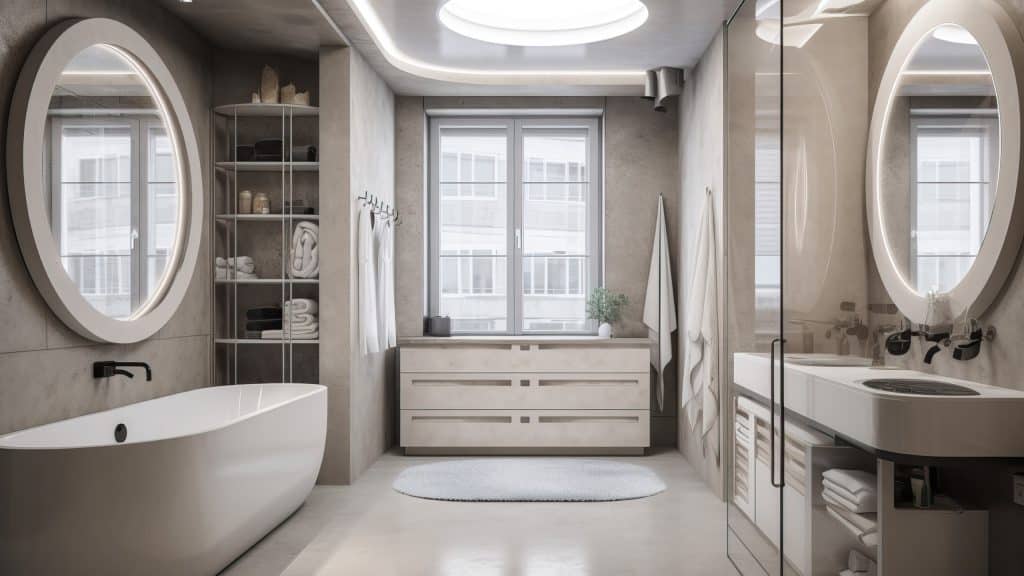 Pros of a Bathroom Renovation
Think about a spa-like retreat right within your home— where your daily routine becomes a luxurious experience.  Envision a bathroom adorned with modern fixtures, a soothing color palette, and the latest smart bathroom technology.  This revitalized space enhances your bathroom and augments your home's overall value and appeal.  A bathroom renovation can translate into an excellent return on investment, making it a great choice for homeowners looking to add value to their homes.
Cons of a Bathroom Remodel
It's imperative to consider the cons as well.  A bathroom renovation has challenges, both in terms of cost and disruption.  These projects can be relatively expensive, demanding a portion of your home renovation budget.  Furthermore, the construction process can disrupt your daily life by temporarily losing accessibility to your bathroom.
Balancing the pros and cons requires a thoughtful evaluation to ensure that a bathroom remodel aligns seamlessly with your vision and budget.  It's about creating a vision, managing your budget, and preparing for disruption in the name of progress.
Pros of a Kitchen Remodel
The heart of your home is the kitchen.  When considering a home renovation, the kitchen often takes center stage.  Whether adding durable countertops to a more functional cooking space or adding extra storage and increasing energy efficiency, this renovation can improve the overall look and feel.  Renovating your kitchen to enhance energy efficiency can reduce energy consumption, resulting in lower utility bills and a greener lifestyle.  Upgrading to energy-efficient appliances, such as LED lighting and energy-saving refrigerators, benefits your wallet and contributes to a greener home.
Cons of a Kitchen Remodel
A drawback to renovating your kitchen is the disruption to your daily routine and the temporary loss of access to your cooking space.  This can be an inconvenience requiring some adjustment during the renovation process. Plan and be prepared to adjust your timeline accordingly to avoid frustration.  Unforeseen delays can arise during the renovation process, so it's vital to remember this when planning your renovation timeline.  A kitchen remodel has the potential for high costs, as remodeling can be a substantial financial investment, especially if you opt for premium materials and fixtures.
It's about whipping up the perfect recipe for your dream kitchen while keeping an eye on the budget.  With a dash of imagination and a sprinkle of practicality, you'll cook up a renovation masterpiece in no time.
Managing Your Home During a Renovation
A home renovation can be an exciting journey but comes with its fair share of chaos and disruptions.  The path to your newly renovated space can be a bit messy. If you stay in your home during the renovation, you should set up a temporary living arrangement with a functioning kitchen, bathroom, and sleeping quarters. Preparing for difficulties that can arise throughout your renovation process is essential.
Hire a Contractor for your Home Renovation
An experienced contractor brings expertise, efficiency, and the ability to turn your vision into reality.  They navigate the complexities of a home renovation and act as project managers, overseeing every detail, timeline, and budget.  Working with a trusted contractor is essential if you choose to remodel your bathroom or kitchen.  It's an investment in the success and satisfaction of your project.  A competent contractor brings a wealth of expertise and experience.  They handle everything from project planning to obtaining necessary permits and managing the construction process.  Hiring a professional contractor is the best approach to ensuring that every nail, tile, and coat of paint contributes to creating the space you've always envisioned.