Ready To Get Started Remodeling Your Kitchen?
Get connected with the perfect contractor, for free!
In 2022, 43% of renovating homeowners choose their kitchen to remodel. Statistics also show that the majority of homeowners (91%) doing a kitchen remodel chose to replace their countertops. One of the first features people notice when they walk into a kitchen is the countertops, which are usually the centerpiece of a kitchen.
Are you looking to freshen up your kitchen space just in time for the holidays? Do you have any kitchen remodel ideas?  Maybe the only TLC your kitchen needs is just fixing the countertops. Whatever project your kitchen might require, we'd like to go over a few options that might help you choose your next kitchen countertop with ease.
How to Select the Best Countertops for Your Kitchen
There are many factors to consider when choosing a countertop for your kitchen remodel: style, hardware, layout, design, etc. These features will influence the overall aesthetics and usability of your kitchen. While infusing your style and personality into your kitchen space may be fun, it's also essential to consider functionality when choosing your kitchen countertops.
When considering anything new during your kitchen remodel, it is essential to consider your lifestyle. Do you want something more sustainable or something more cost-effective? Will you use this area to entertain when you have dinner parties or prepare food and use it as a place to eat? Once you know how you plan to use your kitchen space and how it suits your lifestyle, these decisions will help you choose your next kitchen countertop more easily.
5 Countertop Materials to Consider for Your Next Kitchen Remodel

Granite is a natural stone. Therefore, no two slabs are alike. Most people gravitate towards granite countertops due to their unique colors and varied patterns. It has a variety of colors and patterns to choose from, and you'll more than likely find one that matches your design style or décor scheme. Granite is long-lasting and highly durable. It's also scratch, stain, and heat resistant.  Sealing might be best due to the vulnerability of staining and discoloration due to its natural porosity. Choosing this kitchen countertop material for your next kitchen remodel will give your kitchen a more classic look.
The elegance of quartz countertops is truly incomparable. By choosing quartz for your kitchen remodel, you are truly getting the best of both worlds, as it will make your countertops both beautiful and functional. Quartz is an engineered stone that is highly durable, non-porous (resistant to staining), and acid-friendly, offering a scratch and stain-resistant surface. They come in a variety of colors and styles. The only disadvantage of having quartz countertops is that they are not very heat resistant. If you place a hot pan or baking dish directly on your quartz countertops, it could cause them to turn grayish or cause discoloration.
Marble will give a timeless aesthetic look to your kitchen remodel. It has been associated with prestige and sophistication for centuries. Marble has been used throughout history to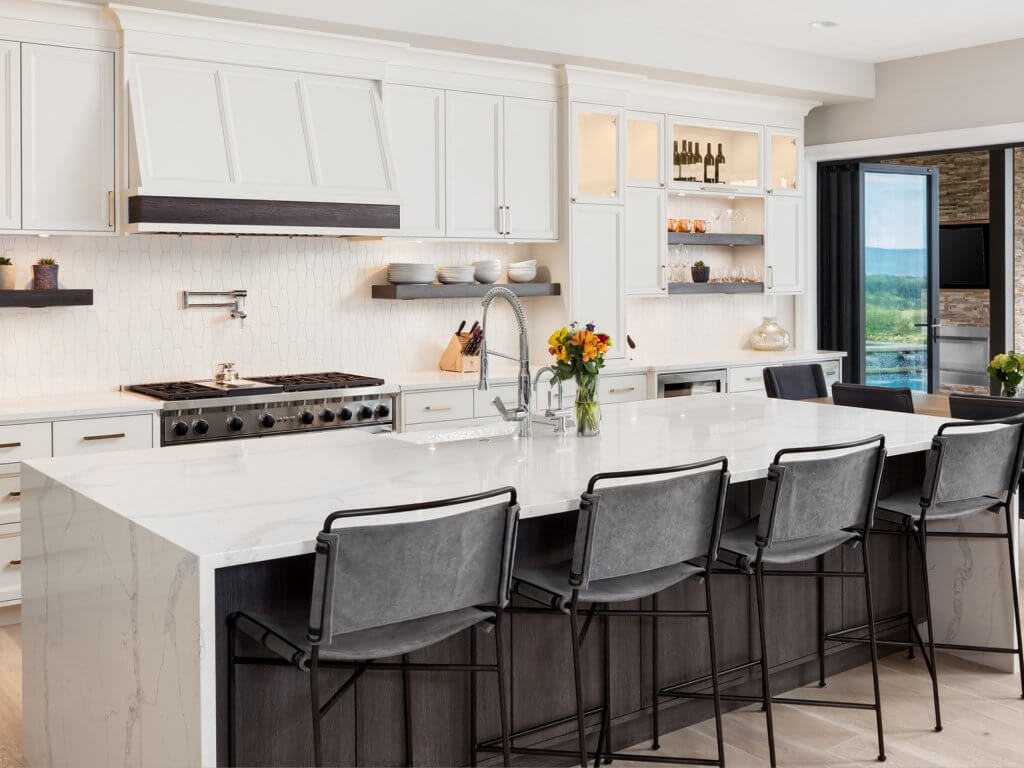 create and construct some of the most stunning architectural buildings around the world, such as The Washington Monument (located in the US), The Marble Palace (The Supreme Court Building in the US), the Taj Mahal (India), and The Parthenon (Greece) to name a few.
Such exquisiteness could make a statement for your kitchen remodel, with marble having some significant characteristics and qualities that make it unique. It is a distinctive and gorgeous natural stone. Every slab is impressive due to its striking veins, fine textures, and color options that demand a viewer's attention. Like most other porous natural stones, marble needs to be sealed on a regular basis as they are susceptible to staining. Sealing your marble regularly can reduce the chances of stains. If imperfections like scratches and stains will bother you, do not get marble countertops. As it will not remain perfect like other materials such as quartz or granite. Marble countertops require a higher level of maintenance than other materials.
Today the design industry leans towards a sleek, modern, simplistic look. If this design style is for you, slate countertops for your kitchen remodel might be an ideal option. Dark and veiny-like slate textures give this stone a distinguishing and modern aesthetic. Slate comes in various colors, such as black, gray, turquoise, deep purples with turquoise combinations, and reds. Aside from its fascinating good looks, slate has incredible durability and is long-lasting. It has a non-porous surface which makes it easier to keep clean from acids like lemon juice or wine stains. Slate has an extremely low absorption rate, making it almost waterproof.  It also has heat-resistant properties like granite.
If you're looking for a more utilitarian countertop, this would be a great option that provides wonderful value and requires little maintenance. Soapstone is called soapstone because it has at least 50% talc, which gives it a soft and soapy sensation, hence its name. As a countertop material, soapstone is available in shades of deep charcoal, light gray, and soft white. Most soapstone countertops obtain gentle veining with blue, green, or pearl hues. It's known to be softer than other natural stone surfaces, making it more vulnerable to scratches. Hot materials are not a concern for soapstone, as it is heat resistant. No need to worry about any discoloration or damage from the heat either. Although a softer material, soapstone is denser (non-porous), unlike granite or marble. Porosity plays an important factor in selecting your countertop material for your next kitchen remodel.
Are You Looking to Remodel Your Kitchen Countertops?
Kitchen remodeling ideas can be intimidating, but we're here to help! Now that you have some new knowledge on how to select one of the five best kitchen countertop materials for your next kitchen remodel, we can match you with qualified kitchen remodeling experts near you.
When you're ready to get started with a kitchen remodel, a contractor can walk you through the entire process and help you renovate your kitchen. Call us at 800.900.7875 today to get started, or connect with us for a complimentary in-home consultation.
Ready To Get Started Remodeling Your Kitchen?
Get connected with the perfect contractor, for free!