Spring is finally here, and what better way to welcome the warmer weather than by sprucing up your home's exterior living space? If you want to host patio brunches or barbecues with your friends and family this summer, you'll need an outdoor living space fit for guests. Start early this spring by upgrading your outdoor space. Let's look at the 4 ways to improve your patio or outdoor living space this upcoming season.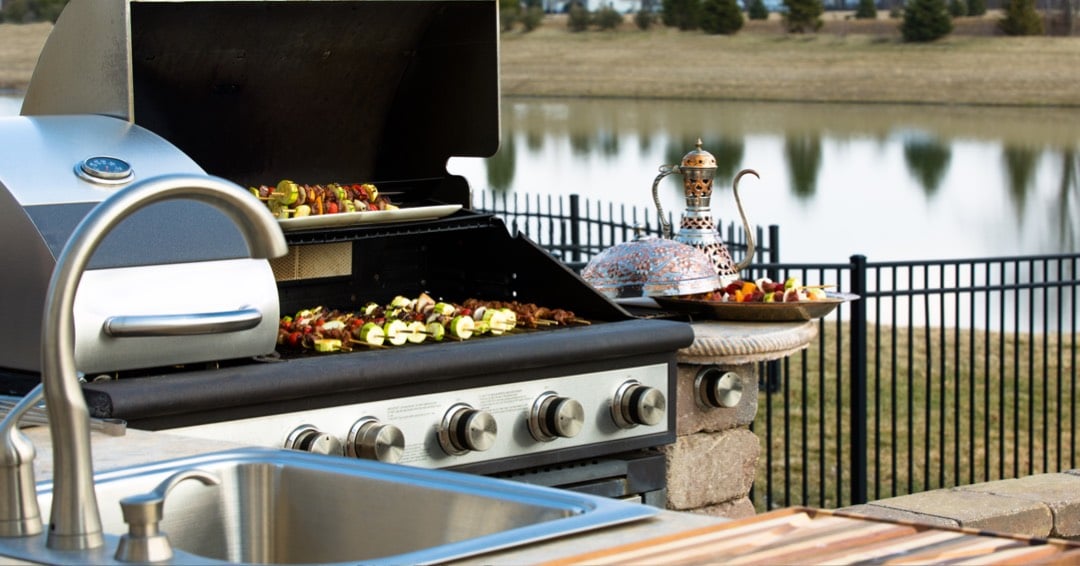 With all the options available, take your kitchen outside and open new worlds for entertaining with family and friends. Outdoor kitchens make entertaining more functional, adaptable, and fun! Good weather means barbeques and cookouts. The weekends inspire us to invite friends or family over to our homes. An entertaining outdoor kitchen gives you the tools to prepare and enjoy delicious meals. Your outdoor kitchen can include a variety of appliances, such as sinks, refrigerators, a prep space, a grill or smoker, a bartending station, and a seating area, to name a few. The size and shape of your kitchen may limit the features you can include in your space. Consider your must-have appliances based on the size of your space. Depending on how much space for your outdoor kitchen will ultimately determine the size of your appliances. Also, keep in mind how you like to entertain.
2. Heat It Up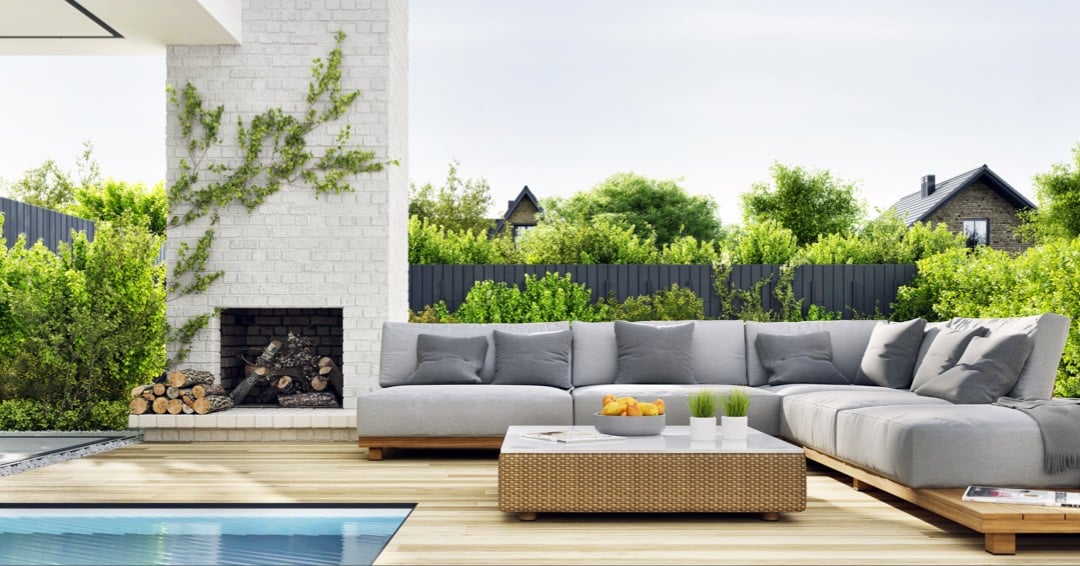 Extend the time guests can enjoy your outdoor living area by adding fun, entertaining elements. There are a variety of smart and affordable outdoor heating solutions available. Fire pits are versatile and practical heating solutions. They allow you to enjoy your outdoor space all year long. Outdoor fireplaces add a great focal point to your patio or landscape design. Your guests are sure to enjoy the warmth and coziness your space brings. Create an intimate patio oasis featuring an above-ground hot tub surrounded by wood and square concrete pavers. Add solar lights around for the perfect ambiance for your layout. Enjoy a hot tub any time of the year.
3. Make Deck Furniture Welcoming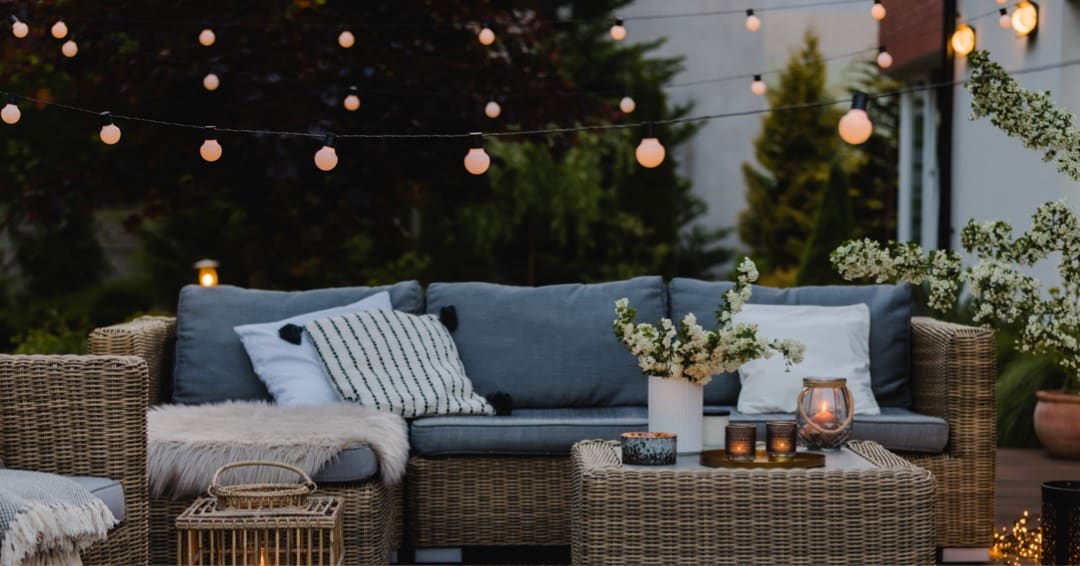 A well-designed space can go a long way, and the right outdoor furniture is key to making this space feel as welcoming as possible. An outdoor dining table is a must to enjoy delicious dinners in your outdoor kitchen space. It's okay to get creative with extra seating. Outdoor ottomans can be moved around for multipurpose use. They can act as stools and tables, which makes them the perfect option for extra seating. 
Personalize the space. Your outdoor living space can be both practical and comfortable but stylish simultaneously. Inspired by modern, farmhouse, mid-century, bohemian, traditional, or contemporary design styles, let your outdoor living space complement your design style. Adding texture with pillows or throw blankets is one way to get cozy outside. A large area rug can soften a concrete patio or deck while creating visual interest. Throw pillows will add pops of color to outdoor seating.
4. Add a Protective Coating to Your Patio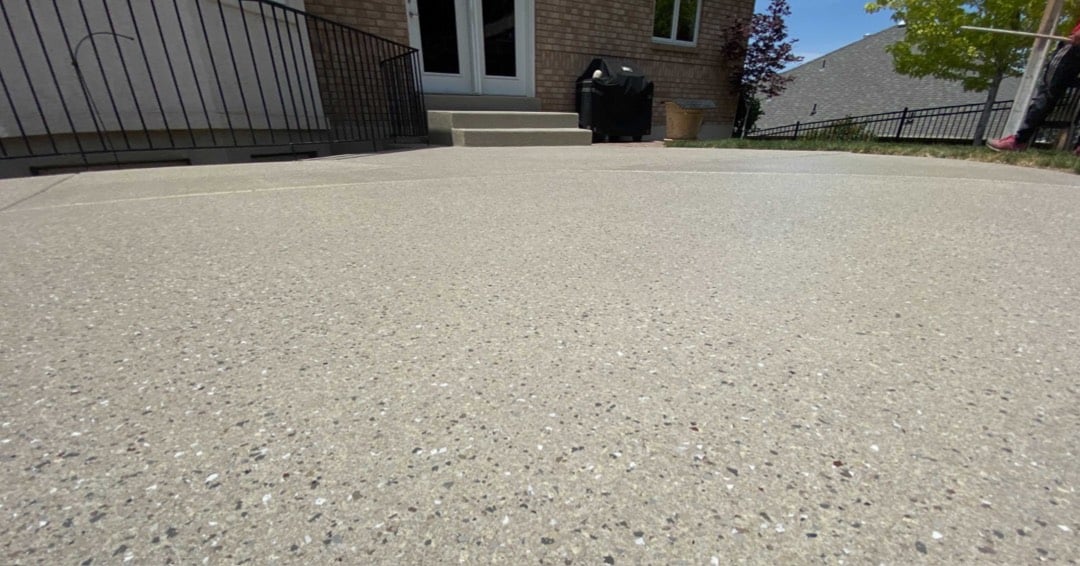 Enhance the overall appearance of your exterior concrete space. Protecting your concrete slab from the natural elements is essential. Since concrete is naturally porous, it quickly absorbs liquids. Coating concrete protects the surface from freeze-thaw damage, preventing staining, and can significantly enhance the overall value of your home. Polyaspartic floor coatings are easy to clean and maintain. Give your outdoor entertaining area a protective coating that's a luxurious design. Enjoy your coated entertaining space without worrying about scratches, moisture, and temperature changes. Polyaspartic coatings are a great option for outdoor concrete patios because they offer excellent durability and UV resistance.  Since polyaspartic floor coatings are considered the most durable, they are waterproof too. Making them a great option for areas around pools. These coatings have a great aesthetic appeal, making them an excellent addition to any outdoor space.
Make the Most of Your Outdoor Space

Nice weather is upon us, and it's time to begin thinking about how you want to tackle your outdoor area. There is no better place than your backyard to entertain and relax when the weather is nice. After you've hung all your lights, added new seating, and fluffed the pillows, it's time to sit back, enjoy, and make the most of your new space. Incorporate a few of these great ideas to bring outdoor enjoyment to your home.