Compare Prices on Your Bathroom Project
Get free quotes today and select the best deal!
Your bathroom matters. It doesn't only serve its physical purpose of providing an essential space. It's also a place that, if designed correctly, can be rejuvenating and relaxing. A well-designed bathroom can increase the value of your home, make your life easier, and simply make you feel good. Ensuring that our bathrooms are cozy, stylish, and trendy is critical. You'll want to stay updated on current bathroom trends if you're thinking about remodeling your bathroom. Here are the popular bathroom designs for 2023.
Use Vibrant Colors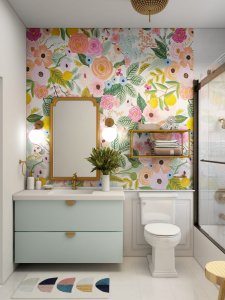 Boring, neutral bathrooms are overrated. Bold, saturated colors are becoming increasingly popular and on the top list of bathroom remodel trends.
Don't be afraid to make a statement with your bathroom design, whether you go for a bright accent wall or an entirely color-coordinated space. Bright colors have become one of the latest trends in bathroom remodeling for 2023, with good reason. Since bathrooms are typically small spaces, using bright colors can help them feel more vibrant and spacious. Plus, who doesn't appreciate a splash of color?
Consider the following colors for your bathroom remodel:
Yellow — The color yellow is often associated with happiness, optimism, and energy. When used in small doses, yellow is a great way to add a pop of color to your bathroom without overwhelming the space. Current bathroom trends point to homeowners using yellow accents like towels, rugs, or shower curtains to brighten up the room. Or, if you're feeling bold, you could even paint an accent wall in a sunny shade of yellow.
Orange — There are a few reasons why orange works well in bathrooms. First, it is a cheerful, optimistic color for a warm and welcoming space. Second, orange is versatile; it pairs well with other colors and with various design combinations. Finally, the orange adds a bit of personality to the bathroom.
Pink — Often seen as a feminine color, pink can add a touch of elegance to any space. Whether you're going for a traditional look or something more modern, pink is a versatile choice. As a warm color, a splash of pink can make the space feel more inviting.
Red — Red is a great color for bathrooms because it is associated with excitement, energy, and passion. Red is also known to increase heart rate and blood pressure, so when used in moderation, it can be a very energizing color in bathroom design.
Purple — Royalty, opulence, and sophistication – that's what purple brings into your bathroom. It also provides a calming and relaxing effect. Whether you're creating a tranquil oasis or simply want to add a touch of elegance to your space, it's no wonder why purple is a beloved color in current bathroom trends.
With these insights, you can start pairing and combining colors to complete your bathroom space. However, if you're not sure about going all-in on a combination or if you're afraid the colors will clash, you can always start small by introducing color accents such as towels, rugs, or even a few brightly colored bathroom accessories.
Whatever method you use to incorporate bold colors into your bathroom remodel, one thing is certain: you'll be trendy, and your bathroom will look fantastic.
Opt For Luxury Materials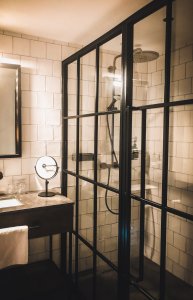 Homeowners have also become more meticulous with material selection. They are no longer satisfied with standard tile and countertop options and are instead opting for luxurious materials.
Current bathroom trends and designs highlight luxury materials not just for the sophistication they provide. Most items of this quality are durable and long-lasting – they won't have to be maintained as much or replaced as frequently, which saves homeowners money in the long run.
So, what are some of the best luxury bathroom materials? Here are a few of our personal favorites:
Marble — For centuries, marble has been used in bathrooms as a classic luxury material. It's elegant, timeless, and simple to maintain. It's also heat-resistant and ideal for use around bathtubs and showers.
Granite — Granite is another classic luxury material that is both beautiful and long-lasting. It is ideal for countertops, floors, and walls. It's also heat-resistant, like marble.
Stone — If you want a natural look in your bathroom, consider using stone. The variety of stone colors and textures ensures you'll find the perfect match for your space. It's also water-resistant and simple to clean.
Glass — A modern option, glass works well on shower doors and walls. They can even be reinforced for glass flooring. It's also simple to clean and maintain.
Quartz — In addition to being incredibly sleek, quartz is extremely hard, resistant to stains and scratches, and easy to maintain.
There are plenty of other luxurious bathroom materials if you're looking for something more unique. Discuss with your contractor what might work best for your space.
Choose Sleek Fixtures and Furniture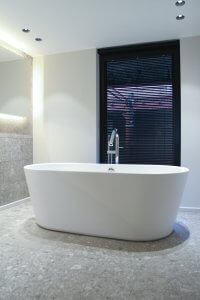 Sleek fixtures and furniture in bathrooms give a sense of modernity. Moreover, they also provide some practical advantages. For one, sleek bathroom fixtures and furniture are easier to clean than bulky ones. For another, they make a small bathroom appear more spacious.
Floating Vanity — This vanity has a clean, minimalist appearance ideal for making small bathrooms appear larger. A floating vanity also allows you to use the space beneath the sink for storage.
Wall-mounted Toilet — A wall-mounted toilet is another excellent choice for small bathrooms in terms of space saving. They're also easy to clean up, over, and around since they're not attached to the ground. Furthermore, since they are often installed at an ergonomic height, they are more comfortable and easier to use than traditional bathrooms.
Rain Shower Head — Rain shower heads are not only fashionable, but they also provide a luxurious experience. They provide a relaxing and invigorating way to bathe, are relatively easy to install, and don't need a complete bathroom renovation. This versatility has earned them a solid place in current bathroom trends.
Pedestal Sinks — Popular bathroom designs include pedestal sinks because they are stylish and easy to install and maintain, making them a practical choice for busy households. Pedestal sinks come in a variety of materials – ceramic, porcelain, and stone – and they can look traditional or contemporary, so you can find one that fits your personal style. Moreover, since they're not attached to the wall, they offer more flexibility in terms of placement.
Glass Shelving — Glass shelves are sleek and modern, giving your bathroom a new look. Not only that, but it's also very functional. Glass shelves are perfect for your bathroom essentials – towels, toiletries, and other handy items. They're often transparent, so you immediately see into the shelves without needing to open them. Glass shelves are also very easy to clean, so you won't have to worry about them getting dirty or dusty.
Freestanding Tubs — In the world of bathroom design, freestanding bathtubs are making a big comeback. These stunning fixtures add a touch of luxury to any space while also being extremely functional. A freestanding tub is a great addition to any bathroom, whether you choose a clawfoot tub or a more modern style.
Invest in Conversational Pieces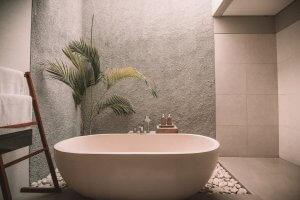 As the name suggests, conversational pieces are eye-catching and intriguing items that can spark a conversation. Current bathroom trends include these items to add personality and uniqueness to a homeowner's bathroom space. The four most common pieces are:
Artwork — Adding artwork to a bathroom is a great way to inject personality and style into the space. Furthermore, people frequently comment on the artwork or inquire about the artist.
Mirrors — Another excellent design tip to add style to your bathroom is through mirrors. They can create the illusion of more space, and unique mirror frames provide personality and interest in your bathroom.
Lighting — Lighting is essential in any room, especially in a bathroom. Chandeliers, pendant lights, and even LED strips can all add drama and interest to your bathroom.
Plants — Plants are a great way to bring life into the bathroom. They add a touch of greenery to the decor, and houseplants can also improve your bathroom's air quality. An important tip: Choose a location for your plants that receives adequate light and water them on a regular basis.
Incorporate Smart Technology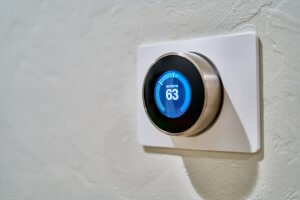 High-tech bathrooms are all the rave today. Smart technologies can make your bathrooms more comfortable, efficient, and luxurious. In the past, homeowners often overlooked tech upgrades for their bathrooms, but current bathroom trends are shifting in the opposite direction. As proof, here are four high-tech bathroom ideas that you can use in your own home:
Smart Toilet — This may be the ultimate in high-tech bathroom fixtures. Smart toilets come with all sorts of features like automatic flushing, self-cleaning, and even built-in bidets. They're sure to make your life a lot easier (and your bathroom a lot cleaner).
Digital Shower Controller — This is a great way to upgrade your shower experience. A digital shower controller lets you control the temperature and flow of your shower without having to fiddle with knobs. Some even come with built-in music players so you can enjoy a relaxing shower while listening to your favorite tunes.
Motion-Activated Faucet — This is a great way to save water (and money on your water bill). Motion-activated faucets only turn on when they sense movement, so there's no need to leave the water running when you're not using it.
Heated Towel Rack — This is a must-have for anyone who loves the feeling of a warm, cozy towel after a shower or bath. Heated towel racks keep your towels toasty warm and make your bathroom feel like a spa.
Remodeling? Hire A Professional
Whether you're planning a full bathroom remodel or just a few minor changes, these current bathroom trends will help you create a stylish and functional space. You may also be tempted to try and do it all yourself. After all, plenty of YouTube videos and blog posts show you how to tile a floor or install a new sink.
However, the truth is that your renovation won't turn out quite as you planned unless you're a professional bathroom contractor. Here's why you should always hire a professional for your bathroom renovation:
Experience — A professional bathroom contractor has years of experience designing and renovating bathrooms. They know all the ins and outs of the process, from start to finish. This means they can avoid potential problems and pitfalls that could end up costing you time and money.
Quality — A professional contractor will only use the highest quality materials for your bathroom renovation. This means your new bathroom will not only look great, but it will also be built to last.
Safety — Renovating a bathroom can be dangerous if you don't know what you're doing. There's a risk of electrocution, slips, falls, and other accidents. A professional contractor has the training and experience to safely complete your bathroom renovation.
Warranties — When you hire a professional contractor, they will typically offer warranties on their workmanship and materials. This gives you peace of mind knowing that if something goes wrong, you're covered.
Savings — Trying to renovate your bathroom yourself will likely take longer than if you hired a professional. Moreover, you may think you're saving money by doing it yourself, but in reality, you could end up spending more. Professional contractors have the tools and experience to get the job done quickly and efficiently. They also know where to get the best materials at the best prices and can install fixtures and finishes with little to no mistakes, which can save you money in the long run.
Avoid stress — Renovating your bathroom can be stressful, especially if you're trying to do it yourself. Hiring a professional contractor will take that stress off of your shoulders and allow you to enjoy the process. The bottom line is if you want your bathroom renovation to go off without a hitch, you need to hire a professional. They have the experience and expertise to get the job done right the first time.
Fortunately, HelloProject can help you do that. We can match you with the perfect home improvement contractor. Contact HelloProject today, and let's get started on adopting these current bathroom trends!
Compare Prices on Your Bathroom Project
Get free quotes today and select the best deal!