The tile market is vast and expansive, and there are various materials and sizes of tiles. When choosing tile designs for your home, key elements to consider include the tile material, size, finish, shape, color, pattern, and layout. With many trending tile designs and styles for you to choose from for your home, these tile trends can help you narrow down your selections.  Ultimately, the overall look you want to achieve in your design is essential when choosing your specific tile.
Undoubtedly, changing the tiles of your home can make it refreshed and transform the overall aesthetics and style of the home. Check out this curated list of trending tile designs and styles that are ruling the charts; it could even lend you an inspirational hand for your tile projects.
Textured Tiles:
Textured tiles are growing among homeowners rapidly these days. Everyone is moving away from the classic flat, right-angled application of tiles to more textured, character-oriented tiles in their homes. Tiles that bring depth and texture or grooved surfaces that beg to be touched are becoming very popular these days. With steadily growing technology, it is becoming effortless to have access to a wide range of textured tiles that suit your taste and preferences.
Marble Tile:
If there is any textile that defines luxury, timelessness, and elegance, the perfect match is marble. An old favorite that continues today and for years to come, marble flooring blends in easily with any home design. Marble is often used for flooring and walls and is even great for kitchen countertops. The classic white marble with grey veins is the most popular and renowned choice of design in marble. Many color and design variations in numerous color shades are available today.
There are other options for those needing a more allowable budget to install this natural stone as a flooring choice, as marble can be more costly than other textiles. If you are looking for a similar look as marble but something more pocketbook-friendly, marble-like tiles resonate with the look of marble and are much easier to maintain. These tiles are moisture and stain-resistant, which means you get the intent of a timeless stone and the characteristics of a tile. Isn't that just perfect?
Subway Tiles:
Subway tiles make an excellent style statement and maintain their functionality, sense of timelessness, and durability. The choices are endless, so knowing what is best for you and your home can be intimidating. Subway tile initially gained popularity from its ease of cleaning and being stain-resistant. When choosing to use subway tile, the pattern is everything. A traditional subway tile design, laid with an offset, is known as the staggered subway title. The stacked subway tile is known for being contemporary, having clean and sleek lines. Stacked subway tiles have more of a modern vibe and are laid without an offset.
When picking out your subway tile, you should consider these three factors: size, finish, and shape.
Size: For a more classical look, stick with the authentic 3×6 in. Consider a longer size for a contemporary design style, like 4×12 in. or 4x 24 in. The larger sizes will modernize your design, making your space look bigger.
Finish: Your tile's finish matters — Matte or glossy, handmade impression, or solid. The classic finish design style is a more solid color with an even finish. Choose a tile with more color variance and uneven edges if you want a more handmade look. This look will give you depth and more character.
Shape: The shape of your subway tile will significantly affect the overall look. When remodeling your project, do you want a flat or dimensional appearance? Flat, framed, beveled, uneven-edged, and sculptural tiles are different options.
Once you can decide on the size, finish, and shape, consider the different subway tile designs and what might work best for your home.
Different Subway Tiles:
If you have a small shower that needs remodeling, the vertical straight-set pattern can give height to your small shower in a more contemporary way. The most popular layout for subway tile is a traditional horizontal brick. To make this seem more modernized, use a larger size tile. For more unique designs, like herringbone and crosshatch, add dyna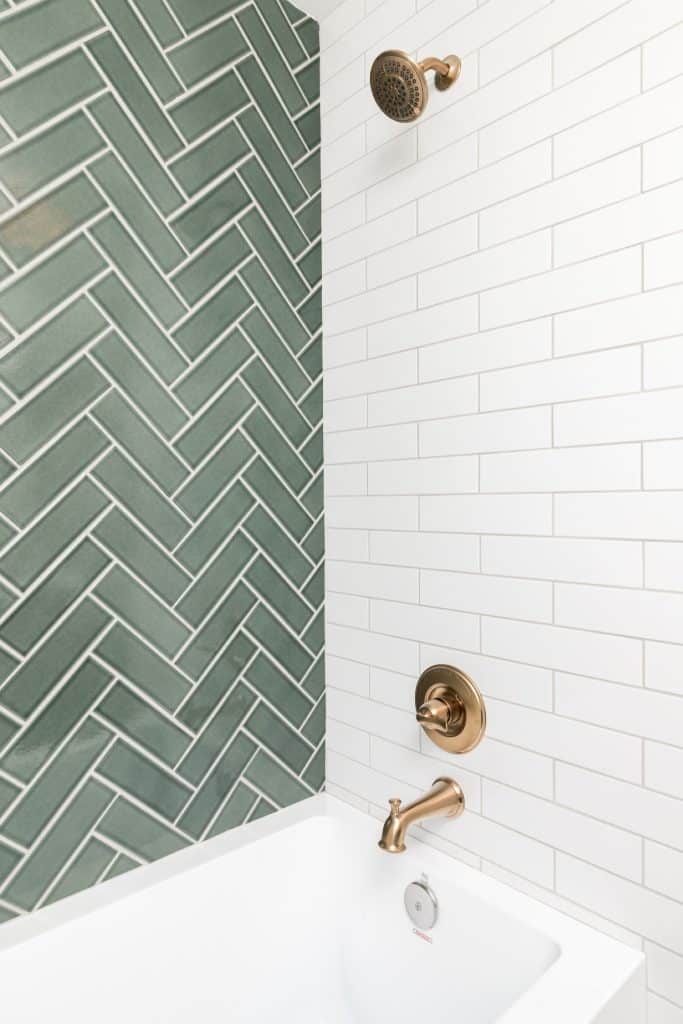 mic patterns, even if that includes a monochromatic or colorful palette. There are a variety of colors you can choose to suit your preference. Many suppliers offer a variety of vibrant, colorful selections, from bright hues to neutral and earthy tones. With subway tiles, endless design opportunities make it a perfect fit for residential and commercial spaces.
The most popular layout for subway tile is a traditional horizontal brick. Horizontally stacked subway tile is closest to the classic subway tile design.  This tile is a modern version of the subway tile while maintaining the traditional subway tile feel.   Horizontally stacked subway tile visually widens your application. This can make narrower spaces feel roomier.
Another option is a vertically stacked subway tile. Vertically stacked tile is the more contemporary option because it alters two of traditional subway tile's characteristics (its offset and direction). Those looking for a trendy design are in good hands with stacked vertical subway tile. The color choices are vast for choosing a color that suits your preferences.
Classy Plain-Looking Tiles:
Plain-looking tiles are the most versatile choice for those who like to play it safe and want to keep it simple and elegant. Plain tiles bring seamlessness to the design of your homes and make them look more put together. For minimalist and contemporary interiors, classic plain-looking tiles are a great choice.
Geometric Design Tiles:
Another pacing trend these days is the adaptation of geometric designs in homes. From triangles to parallelograms to hexagons to diamonds, everyone is taking a short break from the regular squares and rectangles and is going for the more unusual shapes that add more depth and character to the spaces.
Patterned Tiles:
Mixing and matching tiles in homes is becoming a favorite subject for many homeowners. Many people leave their comfort zones to explore the endless world of design and color, and the pattern is excellent. Pattern tiles create an interesting visual and help make focal points around your spaces. The beautiful play of colors, designs, and sizes makes them more exciting and appealing. Incorporating pattern tiles with mono-toned tiles makes the pattern pop and stand out, adding the right balance between subtlety and playfulness.
Tile that Looks Like Wood: 
Interested in a flooring option with the timeless and stunning look of natural wood but the extreme durability of tile? Wood-look tile is ceramic or porcelain tile designed to look like natural wood. As innovations in tile design technology have vastly advanced, it's easier to achieve an accurate impression with faux wood-look tiles. Like natural wood, it comes in planks. Wood-look tile is available in different shapes, similar to tile. In many cases, people have a hard time telling the difference between wood-look tile and actual wood flooring. And that's not just a visual comparison. The actual feel of wood-look tile can mimic the hand-scraped, rustic qualities of a plank of hardwood flooring.
Wood-look tile is an excellent option for wet rooms such as bathrooms, basements, or laundry rooms, where solid hardwood floors or wood laminate floors are typically not recommended.  Wood floors, like solid hardwood, engineered hardwood, and even laminate, can be susceptible to damage if exposed to high moisture levels. Tile that looks like wood is a great alternative.
Tile is constructed to be extremely durable—it resists most scratches and moisture, making it an excellent choice for high-traffic or high-moisture rooms. Finally, you can have a floor that looks like wood, with all the benefits of tile.  Thanks to modern-day technology, these wood-look tiles have come to our rescue. With wood-look tiles, you can have the finish, the look of hardwood flooring, and the benefits of tiles. They are highly durable, water and stain-resistant, pet friendly, and easy to clean and maintain. There are a vast array of options for choosing wooden tile flooring for your home.
Dark and Moody Wall Tiles:
The internet is flooded with beautiful images of living rooms, bathrooms, and bedrooms with dark and moody elements. For those who want to be bold and daring, dark and moody themes are becoming a new favorite. They are a chic and eccentric alternative to an all-white or all-beige neutral look. One great way to achieve this look can be through tiles.
Opt for an accent wall or panel, or even choose it for your stairs. This way, you will make your homes look elegant without overdoing it. This will create the perfect example of a bold and beautiful space.

Are You Looking to Add Tile to Your Space?
Whatever tile style you choose, these designs will add texture and dimension to your room. Recent trends show that most consumers choose tiles with different, diverting surfaces rather than smooth and sleek textures. A shift in geometric shapes, wood-like tiles, and 3D designs establish an eye-catching sense of depth and movement in your space. Now that you know the different trending tile designs and styles, you can start planning your next home remodel today.
When you're ready to start a tile remodel, a contractor can walk you through the entire process and help you renovate your bathroom, kitchen, floors, or living space. Call us at 800.900.7875 today to get started, or connect with us for a complimentary in-home consultation.
Author Bio:
Isha Tandon has worked as a flooring consultant expert in the architecture and interior design industry – specializing in tiles, stones, and terrazzo. She has worked with Orientbell Limited, a leading tile manufacturer in India, as a product development manager in the design team. She has recently joined the marketing team as their digital content expert. Her experience comes in handy in understanding the audience as she creates value-driven functional & informational content for the readers. She creates lifestyle pieces focusing on interior design products, trends, and processes. She loves to travel to historic places with rich architecture.