The bathroom and kitchen provide an essential part of everyday life. From the moment you rise from bed to when your day comes full circle in the evening – two of the most important rooms that greet you are often overlooked. Yet, they receive significant foot traffic despite being exposed to spills and stains. So both rooms need flooring solutions that can handle this level of active use without compromising their beauty or integrity over time.
Good flooring options for your kitchen and bathroom spaces help you add aesthetics to your home and provide a durable, waterproof barrier to protect your surfaces from moisture and dirt. Every material can offer a unique look, level of durability, and various maintenance requirements. But no matter your choice, you must ensure your flooring is installed correctly to hold up over time. With the right help, you can create a beautiful, easy-to-maintain space with a suitable flooring material in your kitchen and bathroom.
Below, we look at the best options most floor remodeling contractors recommend for use in these two essential rooms in a home.
Vinyl Flooring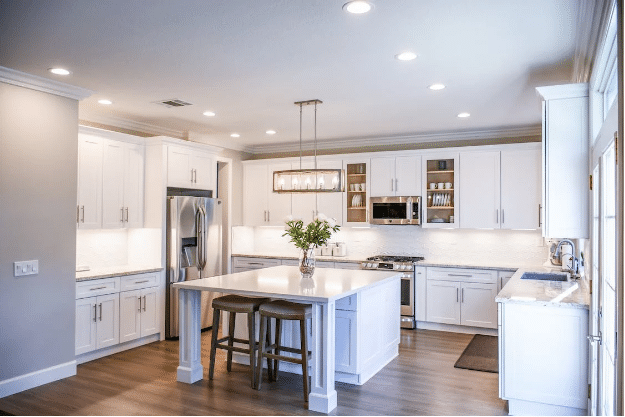 Vinyl is known for its resilience and ranks as one of the kitchen floor options. An advantage of using vinyl is that it comes in various colors and styles. Homeowners can choose from vinyl sheets, planks, or tiles if they do a flooring makeover on a budget. An upside to finding the best vinyl plank flooring option is that it has low maintenance. Vinyl flooring is excellent for both your kitchen and bathroom. It's attractive, highly durable, easy to install, affordable, and waterproof.
Additionally, vinyl flooring is available in various colors, designs, and textures to fit any style. With its low cost, durability, and range of styles, vinyl is ideal for kitchen and bathroom flooring.
Porcelain or Ceramic Tile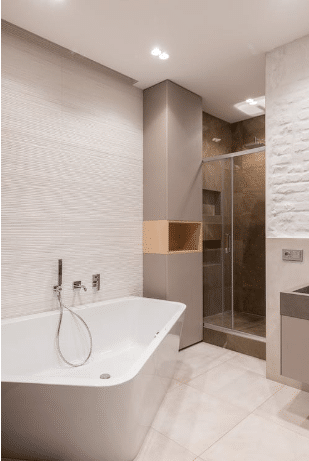 While you may find the best laminate flooring option for your bathroom, professional floor remodeling contractors prefer [and implore many property owners to use porcelain or ceramic tiles in their bathrooms. Tiles are affordable and come in various colors, patterns, shapes, and textures that you can integrate into your bathroom to achieve a personalized touch.
Porcelain and ceramic tile are popular kitchen and bathroom flooring options. These flooring materials are durable, easy to maintain, and long-lasting. You can also customize them to fit any style. Porcelain and ceramic flooring are also water, mold, and mildew resistant. These flooring materials also come in various colors, sizes, and shapes, allowing you to create unique floor designs.
Porcelain and ceramic flooring can last for decades with proper care and maintenance. Like natural stone, tile can be cold to the feet, but you can install radiant floor heating to achieve the best flooring with sufficient warmth and comfort.
Cork Flooring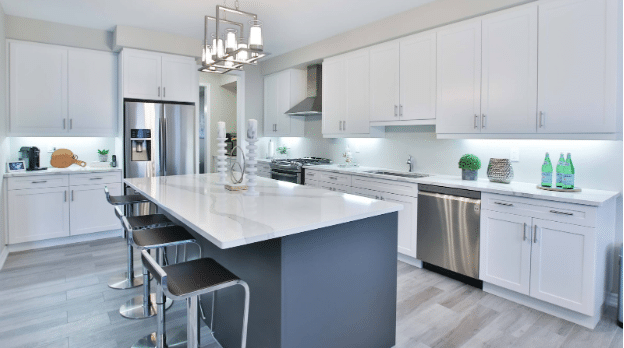 One of the best flooring ideas, cork features natural wood and eco-friendly elements, making it comfortable for the feet. Cork is manufactured from the bark of the cork trees, which takes a short while to grow back, which is why it ranks among the best bathroom and kitchen floor options for environmentally aware homeowners.
Cork is ideal for kitchens and bathrooms because it's highly moisture-resistant. It also offers soundproofing capabilities, creating a quieter environment. Installation of cork flooring is relatively easy; once installed, it requires very little maintenance.
Factors to Consider when Choosing Kitchen and Bathroom Flooring
The floor is never low-key; it is one of the most conspicuous aspects of the home. Therefore, you need to ensure you find something stylish. However, it would help if you considered other factors, especially when looking for the best flooring ideas for the kitchen or bathroom.
Durability
This is one of the most important considerations, especially since bathrooms and kitchens are high-traffic. They're prone to wear and tear from constant foot traffic, spills, humidity, etc. Ultimately, the flooring you choose should be able to stand up to the environment and provide years of service. Durable materials ensure your floor will look great for years.
Budget
The flooring material cost is a matter of concern, especially if the project involves multiple renovations. Luckily, vinyl is affordable and comes in sheets and planks. Instead, you can choose laminate flooring and still get a variety of colors and styles. For versatility, you might want to choose bamboo flooring.
Different flooring materials come with different prices, and the cost can quickly increase. It's crucial to compare flooring materials and determine the most affordable for your budget without sacrificing quality. Investing in flooring that meets your budget and can endure wearing and tearing is vital for flooring selection.
Maintenance
Most householders prefer low-maintenance kitchen and bathroom flooring. Fortunately, various floor materials include vinyl, hardwood, natural stone, and linoleum. Easy maintenance materials are also essential for bathrooms and kitchens because these places are prone to high moisture and wear and tear due to constant foot traffic. Having floors that are easy to clean is essential in creating a lasting kitchen and bathroom space.
Still Not Sure? Contact the Professionals!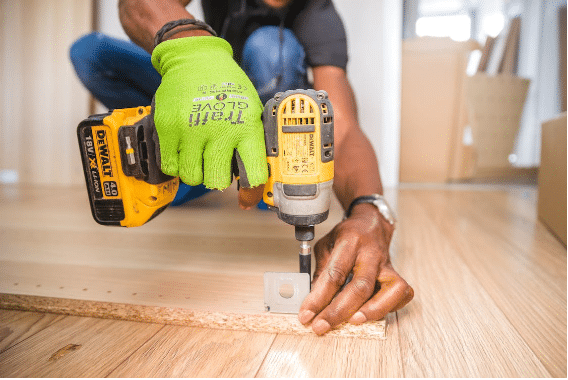 The challenge of finding stylish and durable flooring options for any kitchen or bathroom shouldn't be faced alone. Working with an experienced contractor to choose the best product can make your project easier and more efficient, ensuring a lasting result.
From guiding homeowners on which materials are most suitable for humid environments to providing insight into different style options, contract professionals help create floors built to last through many years of wear and tear. Professional contractors can also offer advice on proper installation, maintenance, and repair procedures, helping to ensure that your flooring will retain its beauty and look great for years to come.
Utilizing the knowledge and expertise of a professional contractor, you can rest assured that your kitchen and bathroom flooring will be just the way you want it. Researching different types of flooring, researching local contractors, and consulting with an experienced professional will give you the best result in style and function.