Compare Prices on Your Bathroom Project
Get the best deal by comparing prices with our free quotes today!
A guest bathroom remodel is an important investment for any homeowner. It can help guests have a more comfortable and enjoyable stay in your home. But not only that, the aesthetics and functionality of your bathroom greatly affect your home's resale value.
The good news is guest bathrooms typically require less renovation than other areas of the house; remodeling can be done quickly and efficiently. To help you in this project, this blog will discuss the four best guest bathroom remodels that will increase the value of your home.
1. Consider the Guest Bathroom's Theme
When doing a guest bathroom remodel, it is always important to look past your bathroom space and figure out the entire look of your home. Consider what layout best matches the design and whether your desired guest bathroom layout and color theme blend with your home. Remember not to force the blend. For instance, don't go for dark colors that can distract the theme of your house. Instead, you can make it an extension of the house that flows well without taking the splendor of the house.
2. Replace Lighting
You will definitely not get it wrong with installing sufficient lighting for your guest bathroom remodel. For example, well-designed vanity lighting can eliminate the shadows on faces. Regarding sufficient lighting, LED lighting is the best option; it creates a welcoming and energy-efficient atmosphere. Combining led-recessed lights with wall scones or side mirrors is also a top-notch idea because when it's too bright, you can mount and use dimmer switches. In addition to their functional benefits, LEDs use up to 85% less electricity than other light sources making them more energy efficient. This not only helps you save money on your utility bills but also reduces your carbon footprint.
3. Install Luxury Features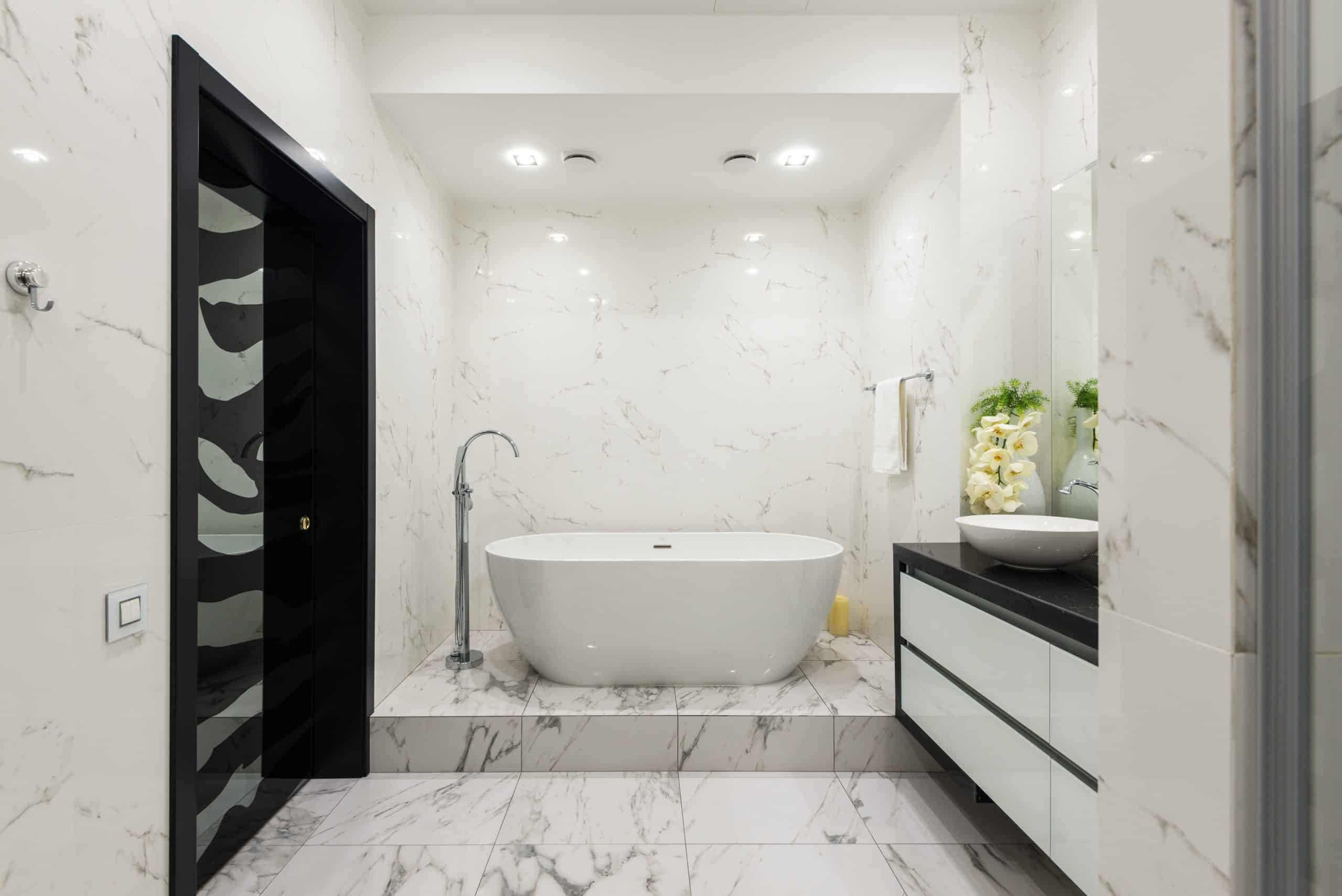 Luxury features can boost relaxation for your visitors who will be using yours. To provide this luxurious experience, you can consider replacing fixtures, like changing your regular shower head to a rainfall shower head, to provide a spa-like experience. Other luxury considerations include a towel warmer and a soaking tub. In terms of design, you can curate some art work to add accent pieces to your guest bathroom. In addition to making your guests feel special, these features will also add to the overall value of your home.
Compare Prices on Your Bathroom Project
Get the best deal by comparing prices with our free quotes today!
4. Replace Old Vanity Tops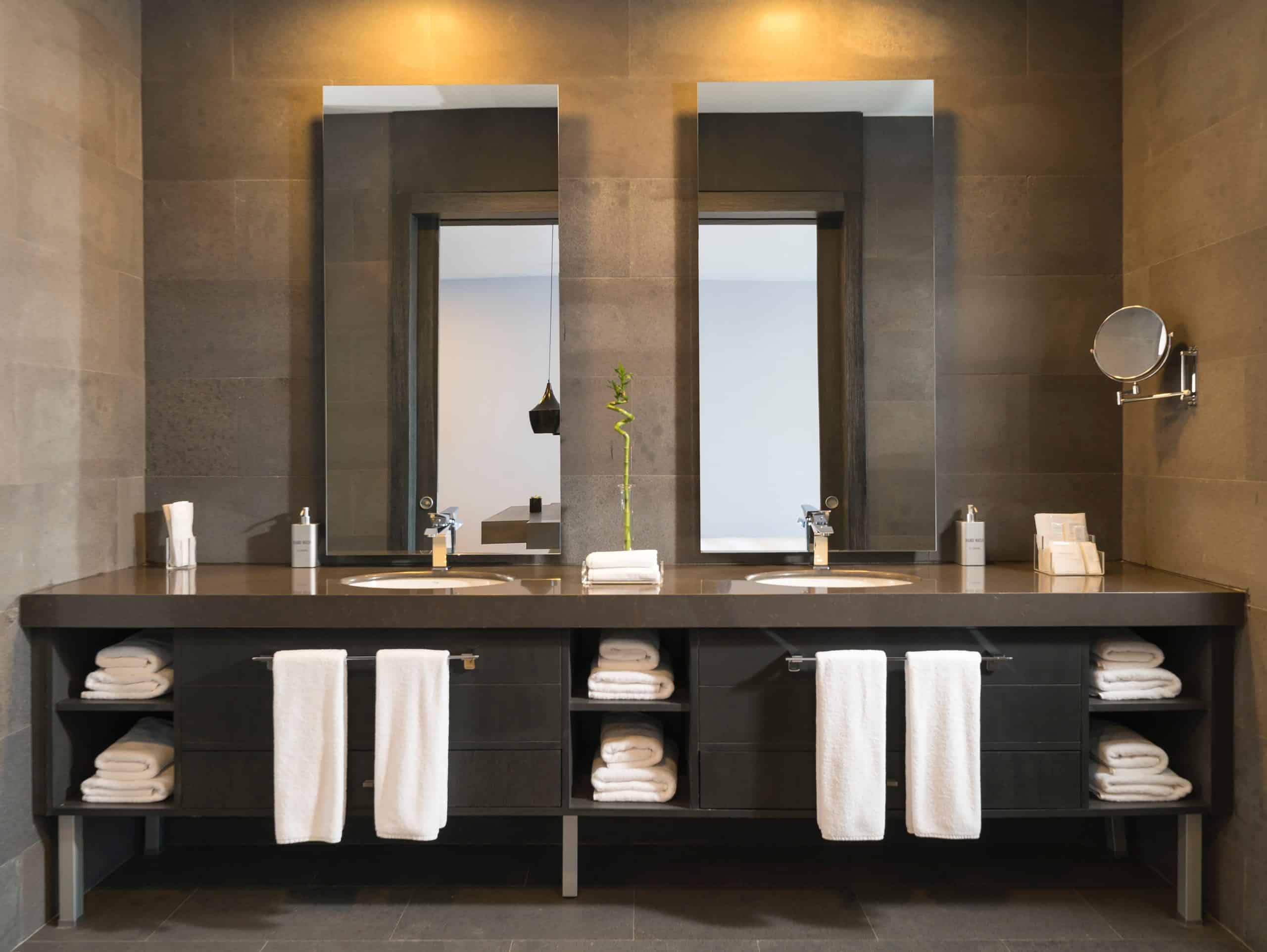 Replacing old vanity tops in guest bathrooms is an effective way to increase the value of your home, especially that it can be done quickly and inexpensively. Upgrading to modern vanity tops provide both aesthetics and functionality; on top of the elegance these can bring to your bathroom, they usually offer additional storage and/or counter space. In terms of material, quartz offers many advantages over other materials due to its durability, resistance to heat and staining, low maintenance requirements, and range of colors. Additionally, quartz does not require sealing like other materials such as granite or marble do – making it an ideal choice for a busy bathroom that may see frequent use from guests. Quartz also resists bacteria growth better than other similar materials.
5. Upgrade Flooring Design and Materials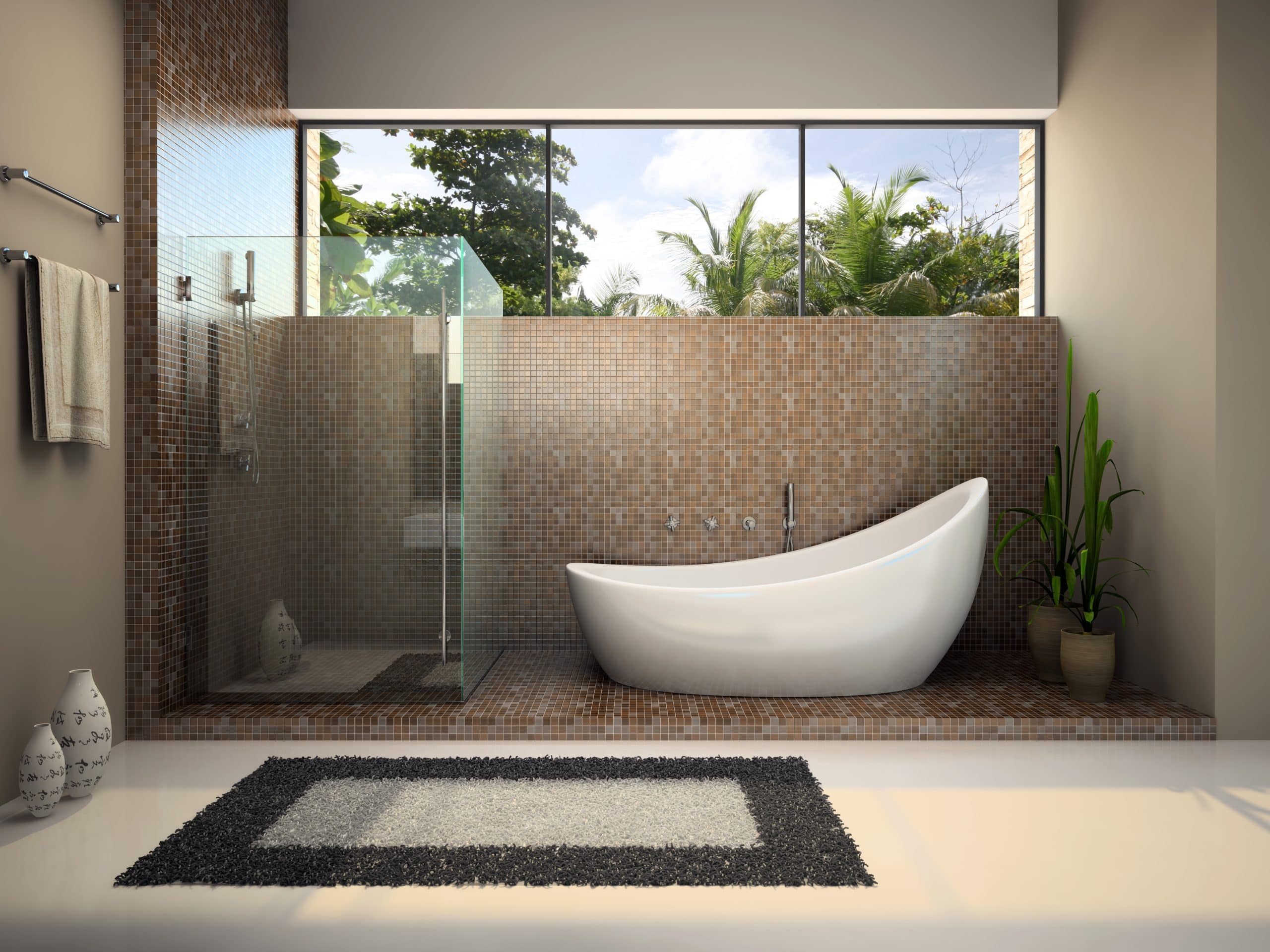 Choosing the right flooring design and material is important when tackling a guest bathroom remodel. Not only does it add value to the home, but it also provides a much-needed facelift for the space. In addition, flooring upgrades can help with water damage prevention, sound insulation, and improved traction for safety purposes. One of the best materials for this purpose is ceramic or porcelain tile. These are durable, low-maintenance, and moisture-resistant. Natural stone tiles, such as marble and granite, work well too. They are more expensive and require more maintenance, but they add a luxurious touch to any guest bathroom.
6. Add Smart Bathroom Technology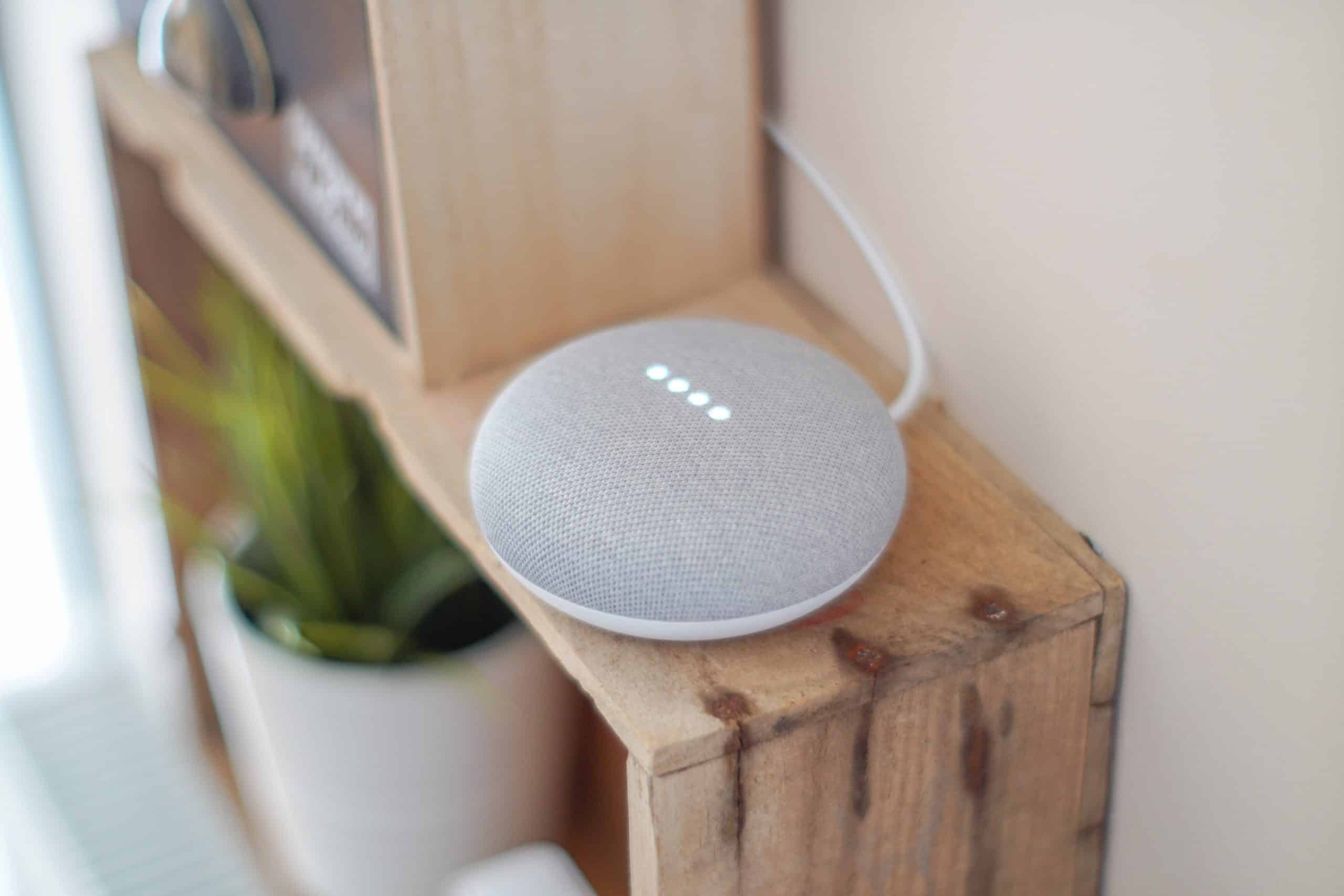 When it comes to guest bathroom remodels, adding smart devices and fixtures can drastically increase a home's value and make the guests' experience more comfortable. For example, motion-activated lights, voice-activated showers, smart faucets, and programmable toilet systems will not only be appealing to guests but also to potential buyers. Smart bathroom technology can add an extra layer of convenience and luxury for guests while it becomes an added buying factor for property hunters. In addition, these fixtures and devices can also be set to save energy and water or provide personalized settings for each user.
Do It the Right Way, Hire a Professional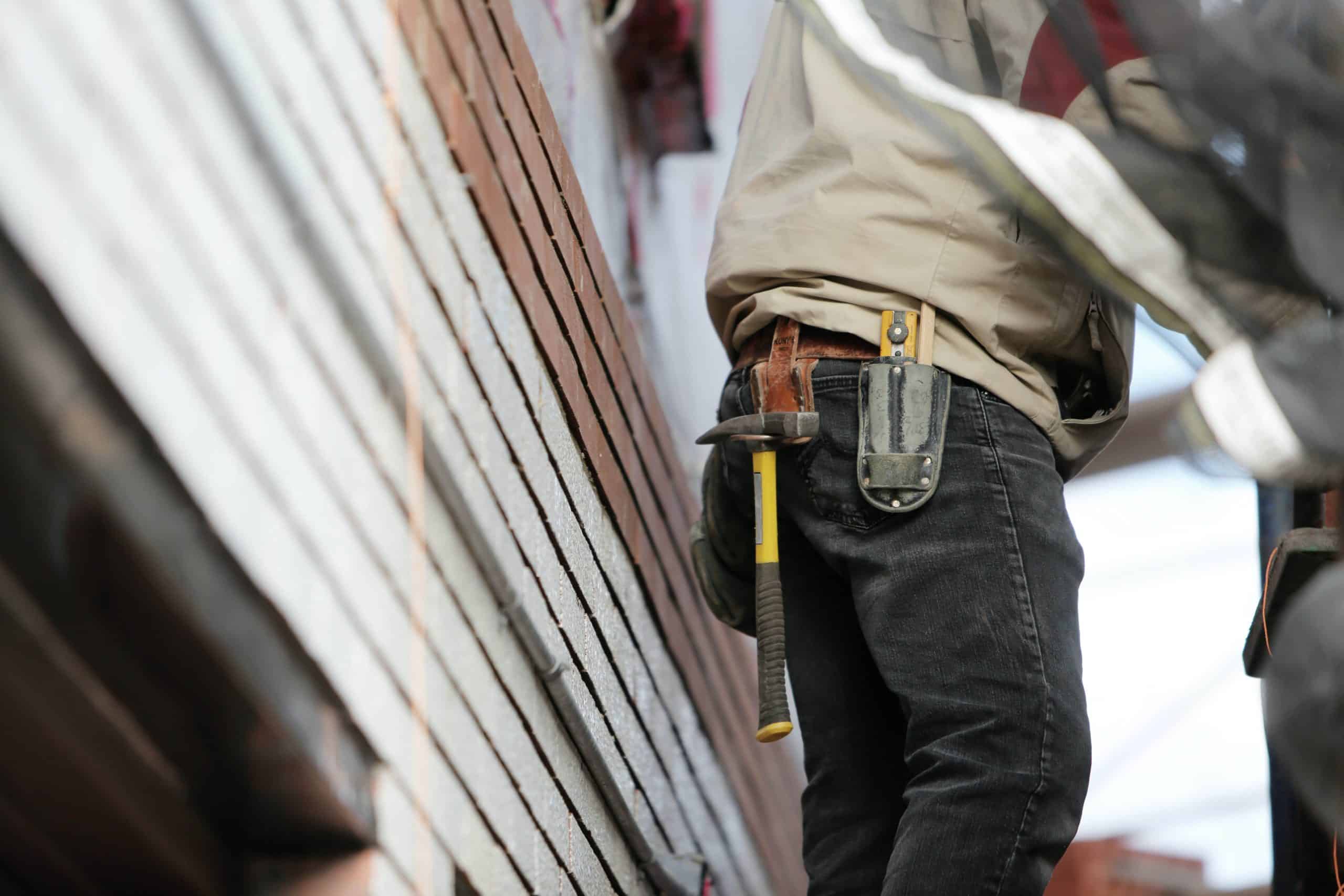 Professional bathroom contractors have the necessary skills and experience to guide you throughout the process of your guest bathroom remodel. They can customize your project to fit any budget or style, which is attributable to their in-depth knowledge of the latest trends in guest bathroom design. This means you get to work with people that have good judgment on the layout that fits your space. Furthermore, working with a professional allows you to get creative with design elements like tile patterns or accent walls without having to worry about making mistakes that could cost you more time and money down the line.
Professionals can also provide a thorough understanding of all design and construction considerations, such as safety protocols, plumbing, and lighting, which gives you the peace of mind that the job will be completed successfully.
Compare Prices on Your Bathroom Project
Get the best deal by comparing prices with our free quotes today!