Compare Prices on your Epoxy project
Get free quotes in minutes and select the best deal!
Many people are looking to invest in epoxy floors for their households and businesses. If you're one of those people, read on.
In this article, we will dive into why epoxy floors are a good investment, the processes and resources involved, and why you'll need the help of a professional to have them installed. Without further ado, here's everything you need to know about epoxy flooring.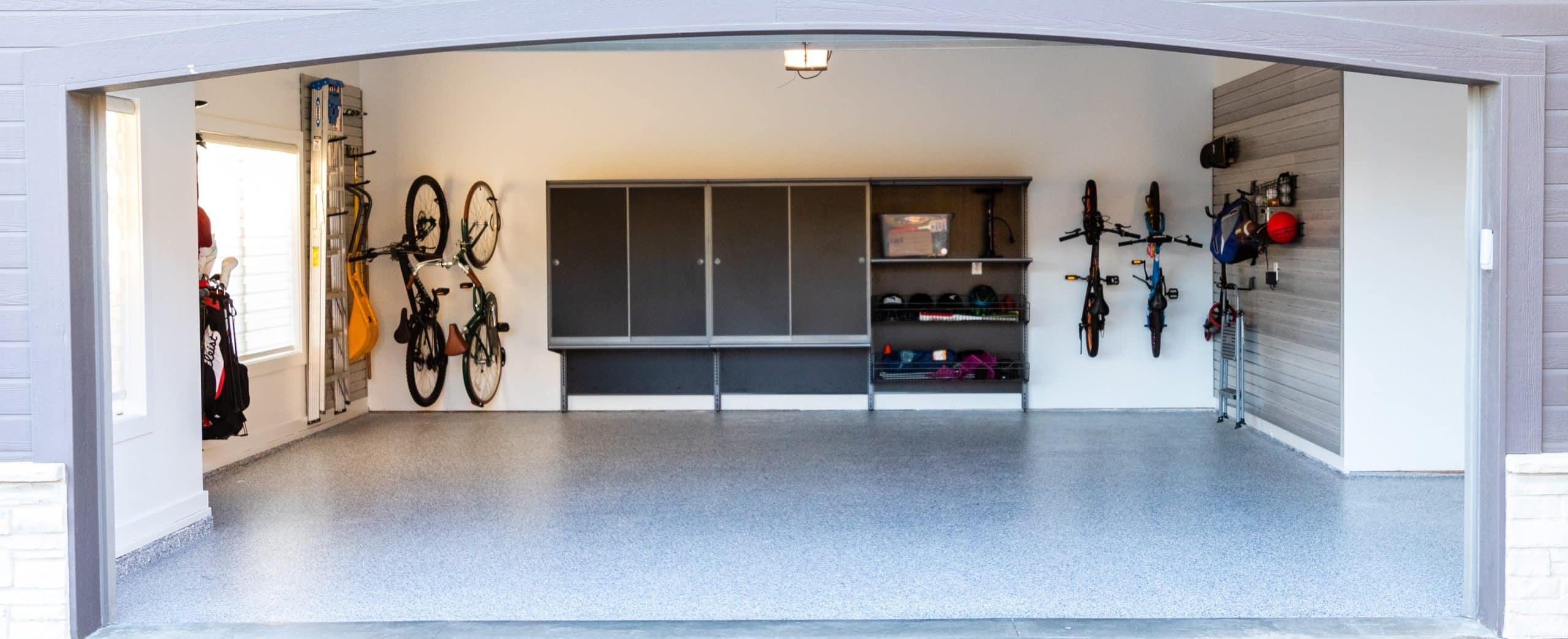 The term epoxy is used to identify coatings composed of two components, typically a two-part combination comprised of a resin (Part A) and a hardener (Part B).
Pierre Castan invented epoxy resins in Switzerland in 1936, when he synthesized the first epoxy polymer by curing it with a phthalic acid anhydride. Epoxy resins were first commercially available at a Swiss industry fair in 1946.
To date, the materials that make up epoxy coatings provide the strongest bond between the resin and reinforcement, which produces some of the lightest and most resilient material.
There are numerous advantages to adopting an epoxy floor coating. Its superior mechanical qualities and dimensional stability offer excellent chemical and heat resistance, with exceptionally low shrinkage when properly cured. Epoxy's bonding strength is also unequaled by other popular substances like vinyl ester and polyester, making it an excellent choice for concrete flooring. They are also a good option for repairs due to their adherence to different and previously cured substances.
Epoxy is often used by the building and construction industry. The material is exceptionally long-lasting and has a hard, glossy finish that is resistant to wear and tear.
For those who are looking to achieve various designs and aesthetics, one can customize epoxy flooring with different pigments, stylish colored quartz, vinyl shavings, sparkles, and other emulsifiers. Various aggregate sand blends can also be added to the epoxy to generate thicker, more sturdy flooring with a non-slip texture.
Construction professionals also commonly apply epoxy flooring in industrial and commercial settings because (1) it can withstand heavy traffic and equipment, and (2) easy to clean and maintain.
The global epoxy coating market is expected to reach $52.13 billion by 2028, expanding at a CAGR of 5.2% from 2021 to 2028.
The Different Types of Epoxy Floor Coating
There are three main types of epoxy flooring: solid epoxy, polyaspartic flake, and epoxy terrazzo. Here's a closer look at each type:
Solid Epoxy
Solid epoxy is a popular choice for residential and commercial applications. It is the template combination – just the resin and hardener, with no added water or solvents. Once it's cured, the solid epoxy forms a robust and seamless surface that is resistant to stains, chemicals, and impact.
Epoxy based on solids produces the thickest floor covering and is typically the most standardized durable option, which is why warehouses carry them often. The primary disadvantage of solids-based epoxy is its relatively short service life. A batch must be applied within half an hour before it becomes too solid to distribute. This setback considerably increases the cost of installation.
Polyaspartic Flake
This epoxy flooring type is the result of mixing epoxy resin with color flakes. The flakes are often from a variety of materials including acrylics, vinyl, and stone, and then are covered in a base coat to create a smooth, multi-color finish. It is a popular choice for garages, basements, and other high-traffic areas because it's durable, easy to clean, anti-slip, and can withstand heavy objects like cars, machinery, and large appliances.
Polyaspartic floor coatings are available in various flake sizes, colors, and styles tailored to any space or property owner's preferences. The colored flake materials in the epoxy create a unique, multi-colored appearance. This is functional and has a flexible chemical solution with excellent resistance to damage, chemicals, flames, and scratches.
Epoxy Terrazzo
Mixing epoxy resin with marble chips or other materials results in epoxy terrazzo flooring. Residential and commercial building owners love it for its unique look.
Epoxy terrazzo comprises of epoxy and other aggregates bound together in a thin-set system. A plethora of colors, as well as shimmering pieces of glass, marble, or granite, combine to create a luxurious and smooth finish. The infinite color palette and intricate patterns allow for limitless design possibilities.
The advantage of epoxy terrazzo is its quick curing time. The curing process typically completes overnight then polishing can commence the very next day and thus reduces the overall project turnaround time. Many commercial and institutional establishments choose epoxy terrazzo for this reason alone.
This flooring also does not need regular maintenance and its glossy, non-porous finish is less prone to fine-line cracking or chipping over time.
Polyaspartic Coating: The Evolutionary Descendant of Epoxy Flooring
Since its introduction in the 1930s, epoxy flooring has come a long way. Now, it has given way to another type of flooring: Polyaspartic flake coatings. This innovation comes from a similar plastic to epoxy. They are, however, much more adaptable and applicable on various surfaces.
Polyaspartic floor coatings are a protective coating commonly applied to multiple surfaces, including concrete, metal, and plastic. This coating is well-known for its toughness and resistance to various chemicals and weather conditions. More importantly, it is stronger than a typical epoxy floor coating.
Applying this type of coating takes two steps, with a base coat typically applied first in order to provide a smooth surface for the second layer, the topcoat, to adhere to.
This type of coating is typically recommended to be completed by professionals who have prior experience with this type of coating.
Benefits of Epoxy Flooring
Understanding the strong points of epoxy floor coatings can help you decide whether or not this material is the best option for your space. Here are five benefits of epoxy flooring.
They have high durability.
Epoxy flooring is a robust and resilient material, which is one of the primary reasons it has such a long lifespan. It is also:
Exceptionally resistant to being broken or scratched
Reinforced using strong materials like fibers, for additional strength and durability.
Epoxy flooring is exceptionally long-lasting for another reason: it is engineered to resist a great deal of foot traffic. Because of that, epoxy floors are used frequently in warehouses, factories, shopping malls, and even airports.
They have low maintenance requirements.
Epoxy flooring is easy to keep clean and maintain. The smooth, flat surface makes it difficult for dirt and debris to stick, and a simple sweep or a little bit of vacuuming will do the trick. Epoxy floors are also resistant to stains, so it is easy to clean spills, mud, and other contaminants without the risk of causing long-term damage to the surface.
It does not need to be waxed or polished regularly, a little soap and water will do. This is perfect for busy homeowners or active commercial spaces without the time and resources to invest in routine maintenance.
They are aesthetically pleasing and customizable.
Epoxy flooring is a wonderful option to consider if you are looking to improve and personalize the aesthetics of your floors. Customization can be unique by selecting from a wide range of colors and surface treatments. Pathways and other striping markings for safety and 5S compliance can also be designated with colors if you so choose.
They are cost-effective.
It is also exceptionally cost-effective and long-lasting. Epoxy flooring can last for more than ten years when properly applied to high-quality concrete. The flooring shields the concrete subfloor beneath from damage caused by moisture, stains, grease, and cracks. There would be no need to clean the grout or the carpet, which significantly reduces cleaning and upkeep expenditures.
Additionally, the installation costs are reasonable for the duration and amount of protection that it provides. In fact, epoxy floors are more cost-effective than tiles that are on the expensive side and are easy to break.
They are slip-resistant and prevent bacterial growth.
Epoxy floors, when applied appropriately, are significantly less slippery and can be skid-resistant than most other smooth surfaces. Adding sand on top of the final coating makes it safer for children and adults alike. The result is a visually appealing, medium friction surface that isn't slippery, even when wet.
Apart from being slip-resistant, epoxy flooring can prevent bacterial growth within the concrete. There are no seams, joints, or ridges in an epoxy floor coating because it is poured, and so there are almost no cracks and holes where dirt and bacteria can hide.
Compare Prices on your Epoxy project
Get free quotes in minutes and select the best deal!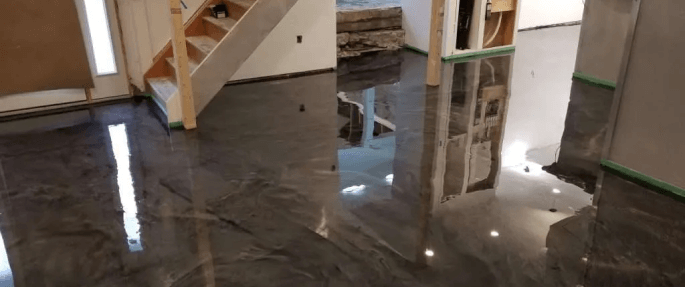 Best Areas for Epoxy Flooring
As explained, epoxy flooring works wonders for areas with constant foot traffic, and makes cleaning a breeze. There are particular areas in your home and in your commercial spaces that would benefit most from epoxy floors. Let's check those areas out:
Residential Spaces
Some of the best places to install epoxy flooring in your home are:
The Garage
It's one of the most popular areas for epoxy flooring installation. A garage floor with epoxy coating can withstand grease, oil, and other harsh chemicals that can damage or stain a regular concrete floor.
The Basement
Epoxy floors' resistance to mold and mildew makes them ideal for the often-humid environment of a basement. In addition, customized epoxy floors can bring life to the underground space.
The Kitchen
High durability and resistance to scratches, stains, and spills are important for a kitchen floor. Moreover, the kitchen is always a busy place, especially in homes with more than a single individual. Epoxy floors are also effortless to clean and maintain, so you won't have to spend hours scrubbing your floors weekly.
The Bathroom
Waterproof floors are important for bathrooms. Epoxy flooring can ensure your concrete floor's protection from water damage and bacterial growth from moisture. Epoxy coating can also make the floor slip-resistant, to help avoid bathroom accidents.
The Laundry Room
Similar to the bathroom, laundry rooms also need to be slip-resistant, easy to clean, and discourage bacterial growth. Epoxy flooring takes care of that.
Commercial and Industrial Spaces
For commercial and industrial spaces, these are the key areas that should benefit from epoxy floors:
Warehouses
These facilities are prime targets for epoxy floors because of the constant foot traffic and heavy machinery that goes back and forth through them. Plus, they're easy to clean, which helps keep everything sanitary.
Manufacturing Plants
Manufacturing plants have strict safety regulations that employees must follow, and epoxy floors can help meet those requirements by providing slip-resistant surfaces.
Retail Stores
Retail stores often have epoxy floors installed in high-traffic areas such as the entryway or checkout area. Moreover, in a retail store where customers expect a clean and welcoming environment, an easily-cleaned floor is key to a great first impression.
Office Buildings
Durable, low maintenance, and slip-resistant floors are essential in keeping an office space that fosters collaboration and productivity.
Hospitals
High-traffic areas like waiting rooms and corridors need surfaces that are easy to clean and disinfect. Slip-resistant surfaces are also vital for doctors, nurses, and patients that often walk around in medical scrubs or other loose clothing.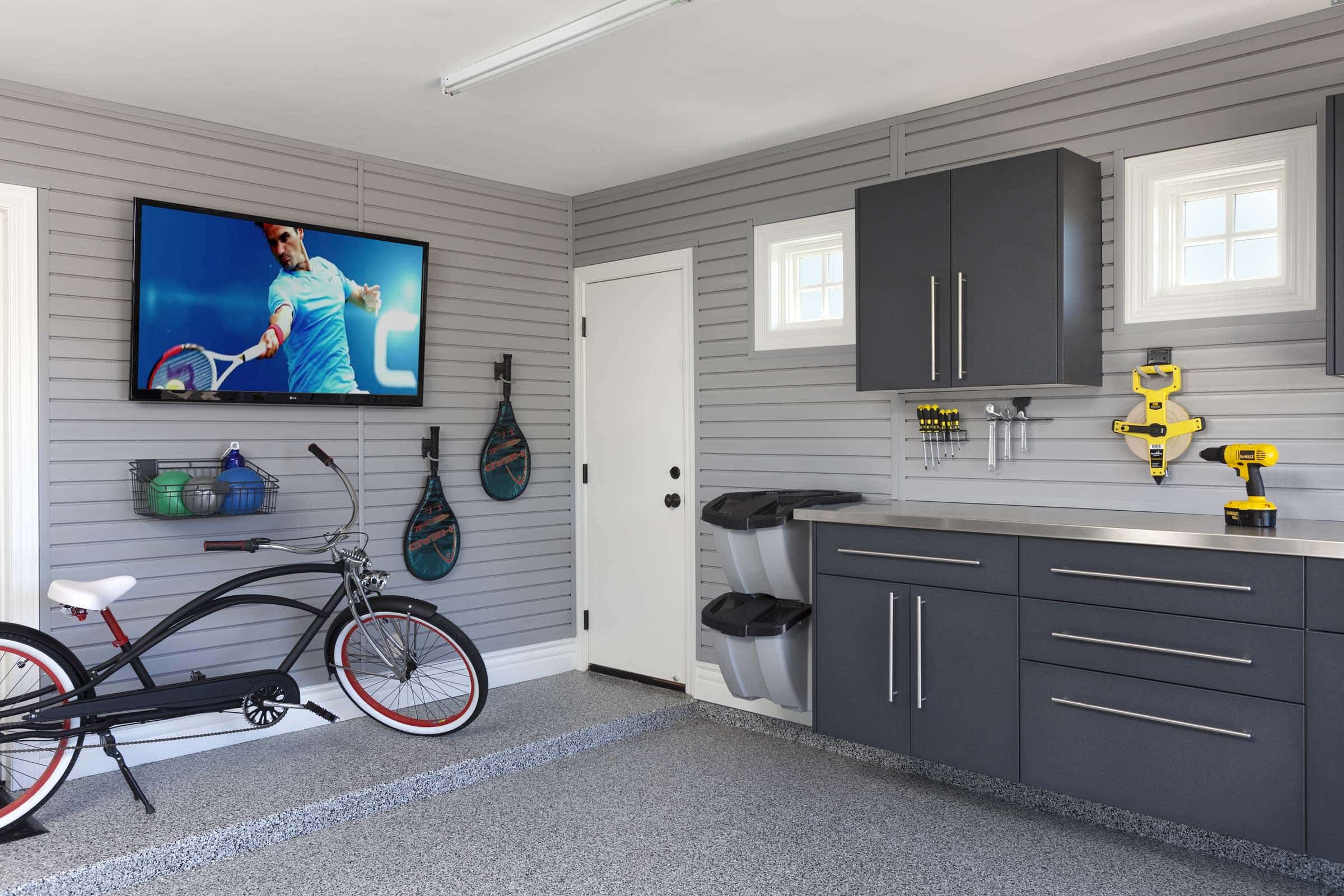 How to Install Epoxy Flooring
Here's a four-step guide to having epoxy flooring installed in in your home:
Step 1: Prepare the surface
Clean the area where the flooring will be applied thoroughly. Ensure there are no cracks or holes in the concrete. If there are, it's important to have them repaired before proceeding. The majority of concrete coatings such as epoxy will not adhere to a smooth surface. The floor should be ground to the correct concrete surface profile. It's best to use a diamond grinder, which opens the pores and allows maximum adhesion. This will remove all of the waxes, oils, grease, and stains. After grinding is finished, it's best to vacuum and mop the floor.
Step 2: Apply the epoxy
Once the surface is ready, apply the base coat on the first day. The base coat will have an 8-12 hour dry time. Once the base coat is dry, the crew will return the next day to inspect your floor and lightly sand any areas that need attention and apply the final color coat.
Step 3: Final color coating
The final color coat will have an 8-12 hour drying time. The third day will consist of a clear epoxy top coat.
Step 4: Apply the topcoat
Applying a topcoat is the fourth and final stage. This gives the epoxy flooring a textured finish and a layer of protection at the same time.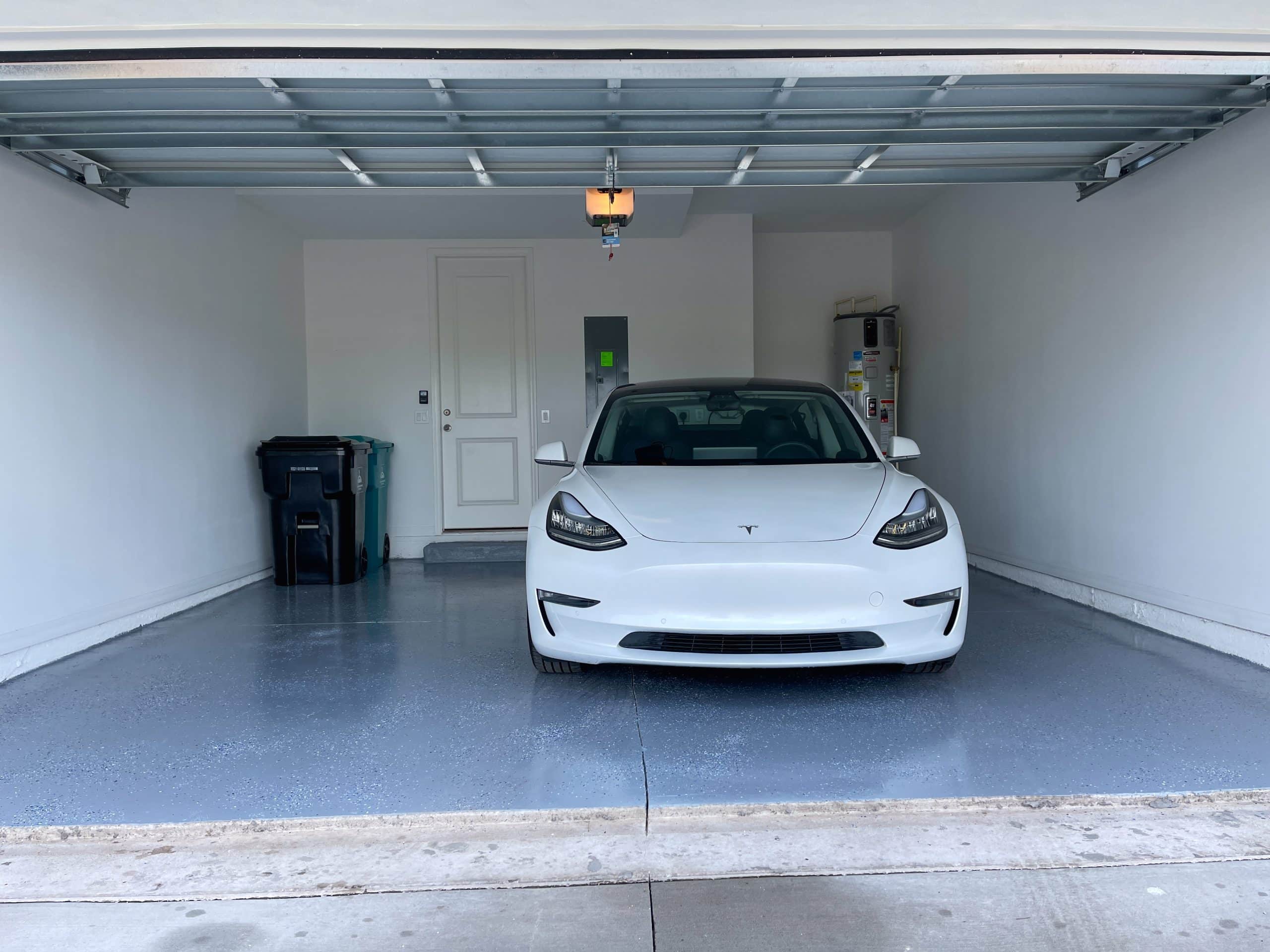 Cost Range for a 2-Car Garage
Standard epoxy      $2,000–$3,500
Polyaspartic            $3,500–$4,500
How Much Does Epoxy Flooring Cost?
The most common question we get is whether or not epoxy flooring is worth it. The answer? Yes! This type of material can bring immense value to your home, adding beauty and sophistication that your living space deserves – all at a lower cost compared to other high-end materials available today.
Typically on average for epoxy flooring, for a standard 2 car garage, 500sqft – it will cost $2,750. A professional installation costs an average of $5.50 per square foot, which includes labor and material costs.
The square footage of the floor is, obviously, a big factor in the price of epoxy flooring. Also, pricing really depends on the condition of the concrete and if the customer is interested in coating the sidewalls/stemwalls, or stairs. Another factor is the type of epoxy used. Water-based epoxy is less expensive than 100% solid epoxy. However, if you want more durability and longevity, the latter will last you three times longer than water-based ones, before you need to replace them.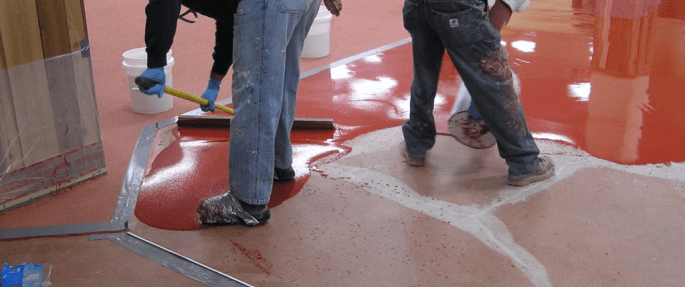 Epoxy Flooring Contractor: Why Should You Hire One?
You might choose to do the installation yourself to save money. However, this is not always a good idea, especially if it is your first time and you want the entire process to be quick, easy, and done well. If you want a painless and convenient experience, you should hire a professional contractor to do the job.
1. Quality materials and workmanship
When you hire a professional contractor, you can be sure they will use high-quality materials and provide expert workmanship. The result is a perfectly-applied, durable, long-lasting epoxy floor.
2. Safety
One of the main benefits of having epoxy flooring installed by a professional is its increased safety. With professionals on the job, you are assured that the installation will be safe and secure for use.
3. Increased value of your property
Professionally installed epoxy floors can increase the value of your property. Potential buyers will see that you've made a great investment in your home or commercial space with the quality of your floor.
4. Customization options
When you hire a professional contractor to install epoxy flooring, you'll have the opportunity to customize the floor's colors and patterns. This gives you the freedom to create a floor that perfectly fits your style and needs.
5. Peace of mind
Knowing that your epoxy flooring was installed by a professional, you'll know that the contractor did it right the first time. This will definitely save time and money in the long run.
Let's Get Your Project Done Right
If you're looking for a professional epoxy flooring contractor in the area, then be sure to contact HelloProject today. We would be happy to provide you with a free consultation so that we can discuss your specific needs and budget. We look forward to hearing from you soon. Let's do your projects right!
Compare Prices on your Epoxy project
Get free quotes in minutes and select the best deal!