Compare Prices on your Epoxy project
Get free quotes in minutes and select the best deal!
Polyaspartic coatings are one of the best options for garage floorings due to their durability, low maintenance, and ease of cleaning. Not to mention, polyaspartic flake coatings are 20x stronger and 4x more durable than standard epoxy.  But if you're building your inner Chip and Joanna Gaines DIY "movement," we can't say we didn't warn you about the mishaps in DIY epoxying your own garage floor.
So let's say you do decide to have some inner DIY inspiration and decide to epoxy your garage floor. Even if you prep, mix, apply, and finish the epoxy on your garage floor perfectly, you may not have considered some things that could still cause problems with your garage floor. There is a big difference between an expectation of achieving a professional, durable, high-quality coating for the garage floor you've always wanted versus a box-store coating kit.
DO IT RIGHT THE FIRST TIME 
We all like to save money and time, right? When providing the best quality or turning to a lower-cost solution like a DIY epoxy job, real money can definitely be saved by getting your project done by one of our professionals the first time. There is no need to spend your valuable time watching YouTube videos that make it seem super easy to do.
At Hello Project, we will connect you with a contractor who will work with you to understand your needs for your particular flooring project. We take pride in offering superior quality and value for your interior or exterior concrete coating needs by providing premium polyaspartic flake or epoxy products.
SAY NO TO DIY EPOXY KITS; LEAVE IT TO THE PROS
Most people interested in a DIY epoxy project think they are saving money by picking up what they believe is the same product the professionals use. We hate to be the bearer of bad news, but DIY epoxy kits typically involve low-quality materials. We've even had some people spend extra money reapplying the same products again to encounter the same problem. More often than not, we end up fixing many DIY epoxy floors.
Most Common Reasons DIY Epoxy Coatings Fail
Below are a few critical factors to consider by professional concrete coating specialists throughout the application process. These factors could be the reason your DIY coating project is failing:
PREP WORK – IT'S THE MOST IMPORTANT PART 
If you want a high-quality garage floor coating, that will require great prep work. Generally, DIY epoxy kits don't stress the importance of adequately preparing your concrete floor before the application. It's more than just vacuuming or power-washing. The majority of concrete coatings, such as epoxy, will not adhere to a smooth surface. The floor should be ground to the correct concrete surface profile. It's best to use a diamond grinder, which opens the pores and allows maximum adhesion. This will remove all of the waxes, oils, grease, and stains you sometimes might not even realize are there.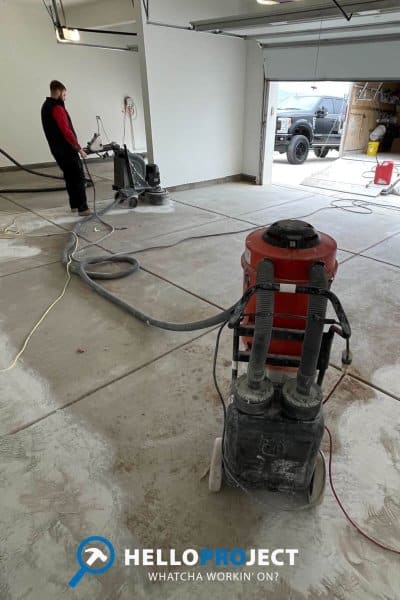 MOISTURE BARRIER 
While concrete is a relatively solid material when dry, it isn't immune to moisture. For DIY, it can be challenging to know how to check the moisture level in your concrete. Professionals have a process to check the moisture with a moisture meter. Based on the reading, they will determine if your concrete will need a moisture barrier. If a moisture barrier is necessary, it will protect the polyaspartic coating or epoxy from peeling or curling away from the concrete.
THE PROCESS
When you purchase your DIY epoxy coating kit, you might think it will be as good as a professional job. There are a couple of problems that you can potentially run into while DIY epoxying the garage floor that you might not have considered, such as home improvement stores' kits often lack durability. The kits you might find at the hardware store are typically not professional-grade. DIY epoxy is primarily water-based, which leaves a thinner coating behind.  It may not be enough to cover your total square footage. Be careful using water-based epoxy because that thin layer is known to bubble and peel.
Hire the Professionals
Are you ready to transform your garage floor with HelloProject?  We can help give you the garage floor of your dreams and help mitigate the mishaps of a botched project or a floor you're unhappy with.  Polyaspartic coatings protect your floors and add style to your interior and exterior space. Call us or fill out our online form today, and we will match you with our professional floor installers near you.
Compare Prices on your Epoxy project
Get free quotes in minutes and select the best deal!